Today's Software
Subscribe to our Windows section to never miss an article: RSS Feed | E-mail
About Windows Software of the Day
Windows has hundreds of thousands of programs. Because of this great volume and lack of a central store, software discovery (aka finding new and useful programs) is extremely difficult. With our Windows Software of the Day initiative, dotTech aims to change that. Everyday we post three programs, allowing our readers to discover new software, daily. Enjoy! [Subscribe to our Windows section to never miss an article: RSS Feed | E-mail]
Developers: Click here to get your apps featured here!
dotTechies: Want to see an app on here? Send us a tip!
Software for July 3, 2012
WorkRave

If you're anything like me, you spend countless hours a day staring at your computer screen, constantly leaning in closer and closer as the day wears on, never moving except to take a lunch break. With WorkRave, you'll be reminded to take breaks every once in a while: some short ones, some longer ones, and then a final time limit.
By default, WorkRave will make you take 30 second breaks every three minutes. That's definitely a short period of time for both the interval and the break length, but it automatically pauses and begins to revert itself whenever you take a break on your own accord. Once you get to a break, it'll flash a notification at you. You can still use your computer, but it'll start tallying up the extra time.
After a longer while, you'll be prompted to take a rest break. The program will lead you through some simple exercises meant to keep you from getting stiff, such as simple arm rotations and bending your fingers. Then, it makes you take a few minutes to stand up, walk around, and maybe get a cup of coffee.
Lastly, WorkRave prompts you to turn off your computer. By default, it lets you stay on for a good four hours, and while it doesn't do much to enforce this break, you hopefully have the willpower to enforce it yourself, with its easy shutdown and lock options.
Price: Free!
Version discovered: v1.9.4
Supported OS: Windows unknown
Download size: 10.3-11.4MB
VirusTotal malware scan results: Portable 1/42 | Installer 0/42
Portability: Portable version availble!
WorkRave homepage [site currently down] | Softpedia installer | Softpedia portable
[via Windows.Appstorm]
KeyTweak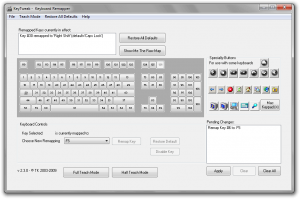 Do you absolutely hate one key on your keyboard? I do, and it's called Caps Lock. With KeyTweak, I can get rid of it! Wipe it off the face of the earth my keyboard! Remap it to anything I want!
KeyTweak can remap a key to anything a keyboard can do. For instance, since Windows supports keyboards with Search keys, KeyTweak can remap your Caps Lock key to a Search key, à la the original Chromebooks. Since it works using secret Windows registry keys, it also doesn't require an application running in the background!
KeyTweak is a nice tool, and for those that haven't already remapped (and plan on remapping) their keyboard, a useful tool. That said, there's not an outrageously large market out there for a product like this, and it's certainly not going to win any design awards.
Price: Free!
Version discovered: v2.3.0
Supported OS: Windows unknown 
Download size: 280KB
VirusTotal malware scan results: 1/42
Portability: Requires installation
KeyTweak homepage | just select KeyTweak_install.exe
[via Windows.Appstorm]
Windows+R Alias Manager
Did you know that Windows contains built-in aliases for the Run box (Win+R)? That's how Firefox is able to open when you type in "firefox" and Chrome when you type in "chrome". However, many applications leave themselves in there when you uninstall them, and it's impossible to add your own in.
Until today! With Windows+R Alias Manager, you can delete, add, and edit these aliases to your heart's content. Want "iexplorer" to open Firefox? You got it! Want "firefox" to open Internet Explorer? You cruel, cruel person. But you can do it!
Windows+R Alias Manager doesn't require you to run software in the background all the time, either, due to its usage of the registry. It's a cool little program, and it's overall quite neat!
Price: Free!
Version discovered: v1.0.0.1
Supported OS: Windows unknown (95+?)
Download size: 219KB
VirusTotal malware scan results: 0/42
Portability: No installation required!
Windows+R Alias Manager homepage
[via Ghacks]
dotTechies: We have tested all the software listed above. However, Windows Software of the Day articles are not intended as "reviews" but rather as "heads-up" to help you discover new programs. Always use your best judgement when downloading programs, such as trying trial/free versions before purchasing shareware programs, if applicable.
Related Posts