Today's Software
Subscribe to our Windows section to never miss an article: RSS Feed | E-mail
About Windows Software of the Day
Windows has hundreds of thousands of programs. Because of this great volume and lack of a central store, software discovery (aka finding new and useful programs) is extremely difficult. With our Windows Software of the Day initiative, dotTech aims to change that. Everyday we post three programs, allowing our readers to discover new software, daily. Enjoy! [Subscribe to our Windows section to never miss an article: RSS Feed | E-mail]
Developers: Click here to get your apps featured here!
dotTechies: Want to see an app on here? Send us a tip!
Software for July 11, 2012
Gomigo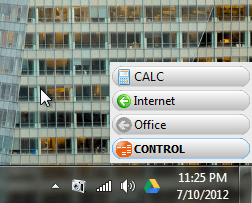 Want to quickly open your favorite applications with just two clicks? Gomigo is the lightning-fast tool for the job! It's a system tray launcher that allows for hyper-speed control and lots of programs.
Gomigo adds a small icon to your system tray. Clicking on it opens up a pre-configured list containing Calculator, an Internet folder with your installed browsers inside, and an Office folder containing your Office programs. If you want to add more, just right click an element (folder or file/program) and click Add element. If you do that to a folder, it'll add an item inside the folder, but if you do it to another item, it'll add an item above the first item.
Gomigo starts up lightning fast when you click its tray icon. This makes it perfect for quickly opening files or programs–click, click, done! All around, Gomigo is an awesome program for opening your favorite files or programs instantly.
Note: the installer is in Spanish, but is easy enough to follow. It will automatically detect your system language upon launch.
Price: Free!
Version discovered:
Supported OS: Windows XP+
Download size: 595KB
VirusTotal malware scan results: 0/42
Portability: Requires installation
[via AddictiveTips]
Install Monitor
Revo Uninstaller is really great! It allows you to uninstall programs and then some due to its advanced searching algorithm that finds files and registry entries left behind. However, what could be better? Something that monitors the installation and lets you essentially undo it! Install Monitor is just the program for that task.
I installed Gomigo, above, after installing Install Monitor. Then, when I was done playing around with it, I just ran its uninstaller with Install Monitor. It first launched the regular uninstaller, like Revo does, but when the uninstaller was done, it left me at a screen showing leftover files and registry entries. To remove them, I just had to check the box and hit Delete. It took a few times through to convince Install Monitor to fully remove all of the files, including some that were placed inside of My Documents, but this was probably Install Monitor trying to protect me from bad decisions.
Install Monitor is a really nice installation monitoring program, and it's probably going to be one of those programs I actually keep, as it's quite handy!
Price: Free!
Version discovered: v1.1.93.0
Supported OS: Windows XP+
Download size: 2.1-2.6MB
VirusTotal malware scan results: XP 0/42 | Vista/7 32-bit 0/42 | Vista/7 64-bit 0/42
Portability: Requires installation
[via Ghacks]
FluffyApp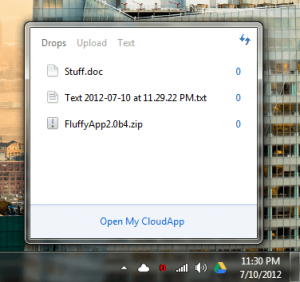 Sharing files with other people can be a real pain. It's often faster to just walk over to their house (even if it's a dozen miles away) and hand them a thumb drive with data than it is to upload it to the cloud and have them download it. FluffyApp, along with CloudApp, is a way to undo that: a free filesharing service that doesn't suck.
FluffyApp is based on a service called CloudApp that requires registration. After that, though, it's free to use, and excels at uploading text files, screenshots, and other files. It also allows you to upload whatever's in the clipboard with a keyboard shortcut, which is really nice.
To upload files with FluffyApp, just go to Advanced and enable Notification Icon Dropzone and drag files onto the system tray icon. If you're not feeling experimental, you can always open up the full control panel and upload from the Upload tab. To get upload links, just right click a "drop" and copy the link. Voila, you're ready to share!
FluffyApp is a nice way to share  files, texts, screenshots, or even your clipboard, and it's entirely free.
Price: Free!
Version discovered: v2.0b4
Supported OS: Windows 7+
Download size: 787KB
VirusTotal malware scan results: 0/42
Portability: Requires installation
[via Windows.Appstorm]
dotTechies: We have tested all the software listed above. However, Windows Software of the Day articles are not intended as "reviews" but rather as "heads-up" to help you discover new programs. Always use your best judgement when downloading programs, such as trying trial/free versions before purchasing shareware programs, if applicable.
Related Posts