Today's Apps
Weave: a fun little puzzle game involving pipes and paths
Frozen Bubble: pop the bubbles, or die trying!
Tweet Lanes: the best Android 4.0 Twitter client
Subscribe to our Android section to never miss an article: RSS Feed | E-mail
About Android Apps of the Day
Android has over 450,000 apps. With so many apps out there, app discovery (aka finding new and useful apps) is extremely difficult. With our Android Apps of the Day initiative, dotTech aims to change that. Everyday we post three apps, allowing our readers to discover new apps, daily. Enjoy! [Subscribe to our Android section to never miss an article: RSS Feed | E-mail]
Developers: Click here to get your apps featured here!
dotTechies: Want to see an app on here? Send us a tip!
Apps for July 14, 2012
Weave
Looking for a great new addition to your mobile games arsenal? Weave is an awesome game that will suck up all of the free time you have, and more. It's a simple tile-based game: you must create the longest path possible, without the ball following the path hitting the walls.
If you loop back around through multiple tiles at once, you'll get even more points: but watch out, as the further you get into the game, the harder it is to avoid the walls. It also contains a multiplayer mode, in which all of your friends can set tiles and move their ball at the same time. It gets pretty crazy, so be sure to get lots of practice.
My high score is 180. If you play this game, try to beat me! I'm looking forward to the challenge.
Price: Free with $0.99 "Pro" version
Version discovered: v1.0.3

Requires: Android 2.2+
Download size: 1.5MB
Frozen Bubble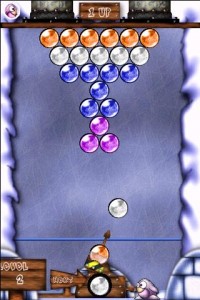 Pop! Try to keep the bubbles away as they slowly get pushed down towards Pengus the penguin. You have to shoot bubbles to form sets of three or more.  There's 100 levels, and while it certainly starts out easily enough, it gets quite hard quite quickly.
Frozen Bubble is a very old app for both computers and phones, meaning it'll work on any device you throw at it. Nokia S40? Check. Gentoo on your old server? Check. So long as it has Java, it can play it. This includes Android, and the resulting game is even more fun than when played on your desktop. It's quite a simple game, and there's really not much to it.
If you're looking for a good time waster to compliment Weave, Frozen Bubble is the perfect game: it'll distract you til the end of time.
Price: Free! 
Version discovered: v1.12

Requires: Android 1.1+
Download size: 497KB
Tweet Lanes
Are you looking for a classy Twitter client for your Ice Cream Sandwich device? Tweet Lanes is a beautiful client that embraces the Android design language and makes it simultaneously beautiful and useful.
It allows you to flick back and forth between your timeline, your mentions, tweets of yours that have been retweeted, your lists, people you're following, your followers, your favorites, your tweets, and your profile. Although the tabs aren't yet customizable, Tweet Lanes is still under very active development, and several important features have arrived just in the last few days. Tweet Lanes lacks only a few things. It doesn't automatically run in the background downloading tweets like some clients, and it doesn't hold your place in your timeline, so it feels slightly jumpy when refreshing your feed, but these kinds of features are currently being developed, and are promised to arrive soon.
If you're looking for an active Twitter client that's beautifully designed, Tweet Lanes is a great choice.
Price: Free!
Version discovered: v0.2.8

Requires: Android 4.0+
Download size: 1.5MB
dotTechies: We have tested all the apps listed above. However, Android Apps of the Day articles are not intended as "reviews" but rather as "heads-up" to help you discover new apps. Always use your best judgement when downloading apps, such as trying trial/free versions before purchasing paid apps, if applicable.
Related Posts