Today's Software
Subscribe to our Windows section to never miss an article: RSS Feed | E-mail
About Windows Software of the Day
Windows has hundreds of thousands of programs. Because of this great volume and lack of a central store, software discovery (aka finding new and useful programs) is extremely difficult. With our Windows Software of the Day initiative, dotTech aims to change that. Everyday we post three programs, allowing our readers to discover new software, daily. Enjoy! [Subscribe to our Windows section to never miss an article: RSS Feed | E-mail]
Developers: Click here to get your apps featured here!
dotTechies: Want to see an app on here? Send us a tip!
Software for July 16, 2012
Volume²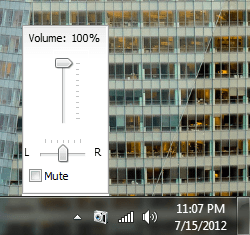 Like many people, I find Windows' built-in sound control to be lacking. It has no on-screen volume display, and takes a while to start up if you've not opened it recently. Volume² fixes these issues, and many more.
Volume² lets you do more than just click the volume control panel and the physical hardware buttons to change volume. You can set up keyboard shortcuts, but more importantly, when you scroll with the mouse wheel while over the system tray, you can change the volume. It also has a display that appears whenever you change the volume with a keyboard shortcut or hardware button.
Volume² is a very nice volume control program, and its display is quite nice. If you're looking for a volume management program, Volume² is definitely worth a look.
Price: Free!
Version discovered: v1.1.3
Supported OS: Windows XP+
Download size: 4.5-5.2MB
VirusTotal malware scan results: portable 1/42 | installer 1/42
Portability: Portable version available!
[via Ghacks]
Rylstim Youtube Downloader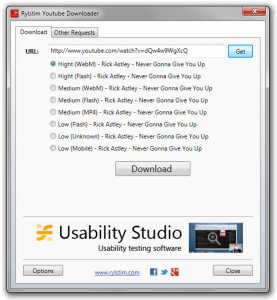 Want to download the latest YouTube videos? There's always Freemake Video Downloader for that, which supports a multitude of sites including YouTube and Hulu, but if you're looking for something different try Rylstim Youtube Downloader.
Rylstim allows you to choose the quality of video to download. With the majority of videos, there's a range of qualities to choose from: HQ WebM, HQ Flash, Medium WebM/Flash/MP4, and Low Flash/3GP. This allows you to choose for youself what size and quality of video to download.
It allows you to view the most common downloads downloaded with Rylstim, too. These are mostly music videos, including Katy Perry, Adele, and the occasional… well, you'll just have to click to find out.
Price: Free!
Version discovered: unknown
Supported OS: Windows XP+
Download size: 3.7MB
VirusTotal malware scan results: 0/41
Portability: Requires installation
Rylstim Youtube Downloader homepage
[via AddictiveTips]
PicPick
Want to take the best screenshots in town? Try PicPick, it may be just what you're looking for. It includes a multitude of screenshot types, FTP support, a built-in editor, and more.
PicPick can take full screen captures, window captures, scrolling captures, region captures, and even free-draw captures. It unfortunately does not have the ability to capture window transparency like Shotty, this author's tool of choice and the creator of the screenshot to the right.
Once you've taken a screenshot, you can edit it using the built-in editor. It allows you to apply effects, draw on it, and basically do everything Paint can do. You can also set it up to open the file in your editor of choice, so you're really limited only to your imagination.
PicPick is a very nice screenshot program, and if you've not already settled on a great screenshot program, it's certainly a good choice to try out.
Price: Free!
Version discovered: v3.1.6
Supported OS: Windows 
Download size: 10.0MB
VirusTotal malware scan results: 1/42
Portability: Requires installation
[via Windows.Appstorm]
dotTechies: We have tested all the software listed above. However, Windows Software of the Day articles are not intended as "reviews" but rather as "heads-up" to help you discover new programs. Always use your best judgement when downloading programs, such as trying trial/free versions before purchasing shareware programs, if applicable.
Related Posts