Today's Apps
Subscribe to our Android section to never miss an article: RSS Feed | E-mail
About Android Apps of the Day
Android has over 450,000 apps. With so many apps out there, app discovery (aka finding new and useful apps) is extremely difficult. With our Android Apps of the Day initiative, dotTech aims to change that. Everyday we post three apps, allowing our readers to discover new apps, daily. Enjoy! [Subscribe to our Android section to never miss an article: RSS Feed | E-mail]
Developers: Click here to get your apps featured here!
dotTechies: Want to see an app on here? Send us a tip!
Apps for July 17, 2012
Zombie, Run!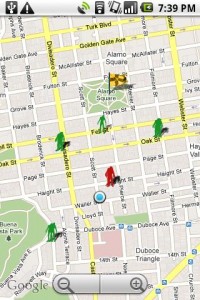 Did you hear? It's finally happened. The Zombie Apocalypse is upon us! Luckily, some intrepid developer has created Zombie, Run! It's an application to help you escape the zombies by showing you their speed, locations, and if they're tracking you.
Of course, Zombie, Run! is all a joke. That doesn't stop it from being great fun and good exercise, too. You can set zombies to move at a rate of 2mph, 5mph, or even 8mph, which is fast even for a sprinter. Note that this is not Zombies, Run!, but Zombie, Run!. They're very similar apps and serve similar purposes, but are in fact different.
If you're looking to spice up your run and avoid the apocalypse while you're at it, try Zombie, Run!!
Price: Free!

Version discovered: v1.3
Requires: Android 1.5+
Download size: 111KB
wp clock design live wallpaper

Are you looking for the perfect live wallpaper for the typography fan hidden deep inside of yourself? Stop right there! wp clock design live wallpaper (herein WP Clock) is a great one to take a look at. It not only shows things like date and time right from your homescreen, it shows more advanced data such as carrier and battery percentage.
WP Clock is free, but contains a $2 in-app purchase to remove ads and give you additional features. Without the upgrade, you'll have easy access to battery status, tablet optimization, week/day, date, time, and more, but with the upgrade, you can get weather, signal strength info, background slideshows, text animations, and more.
If you're looking for a new live wallpaper, I definitely suggest installing WP Clock. It's free to try, and you've got nothing to lose!
Price: Free with $1.99 in-app purchase
Version discovered: v2.1
Requires: Android 2.2+
Download size: 821KB
wp clock design live wallpaper on Play Store
LoboWiki
In Ice Cream Sandwich, there's finally a good way for apps to be both consistent and beautiful, and it's called Holo. LoboWiki is one Holo app, and it's the perfect Wikipedia reader for any Android 4.0-toting reader. But it's not your standard reader: it's got a few tricks up its sleeve.
LoboWiki has a unique "reading queue" design. When you tap to open a new article, it doesn't open it in the foreground. Rather, it adds it to a reading list. When you want to switch to the next thing in your reading list, just swipe left or right. It's not designed to be the most featureful app, meaning you won't find any bloat, but that you might also find certain features critical to you missing.
If you're in the market for an innovative Wikipedia read, LoboWiki is just the app for you.
Price: Free!

Version discovered: v0.46
Requires: Android 4.0+
Download size: 235KB
[via AddictiveTips]
dotTechies: We have tested all the apps listed above. However, Android Apps of the Day articles are not intended as "reviews" but rather as "heads-up" to help you discover new apps. Always use your best judgement when downloading apps, such as trying trial/free versions before purchasing paid apps, if applicable.
Related Posts