Today's Software
Subscribe to our Windows section to never miss an article: RSS Feed | E-mail
About Windows Software of the Day
Windows has hundreds of thousands of programs. Because of this great volume and lack of a central store, software discovery (aka finding new and useful programs) is extremely difficult. With our Windows Software of the Day initiative, dotTech aims to change that. Everyday we post three programs, allowing our readers to discover new software, daily. Enjoy! [Subscribe to our Windows section to never miss an article: RSS Feed | E-mail]
Developers: Click here to get your apps featured here!
dotTechies: Want to see an app on here? Send us a tip!
Software for July 17, 2012
MycView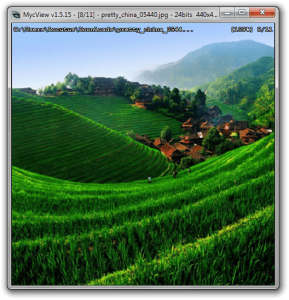 Want a tiny image viewing program that reacts almost instantly? You'll be glad to hear MycView fits that bill perfectly: it rolls in at a mere 39KB, making it probably one of the lightest programs ever featured here.
Loading pictures into MycView is simple. You can drag and drop files and folders onto the main screen, or by right clicking and selecting open. Once you've gotten a specific file open, all of the usual keys (such as Left/Right, PageUp/PageDown, and scroll wheel) all flip through the various images in the loaded folder.
If you're looking for a dead-simple image viewer, MycView is about as simple and easy to use as you can get.
Price: Free!
Version discovered: v1.5.15
Supported OS: Windows unknown
Download size: 39KB
VirusTotal malware scan results: 0/42
Portability: No installation required!
[via Ghacks]
IgorWare Hasher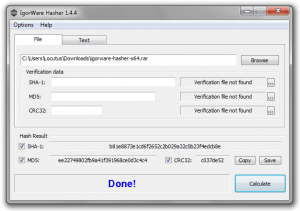 If you've ever seen a developer post a cryptic series of letters and numbers labeled "MD5", "Hash", or "SHA-1", you might be wondering what they're for. They're actually for your sake: if you can verify these mathmatically-calculated numbers, you can guarantee that your files have downloaded correctly.
IgorWare Hasher is an easy to use hashing program. It allows you to input a file and, optionally, the expected hashes, and then calculate the true hashes and whether they match. It allows you to do the same to text, which is quite interesting: do you have predictions for something you want to have verified but don't want anyone to know yet? Type them up and take a hash of it. Make the hash publicly available and known as the hash of your prediction. Then, when you're ready to reveal your prediction, simply reveal the text, and anyone who wants to can take the hash of your text again to verify your claims.
IgorWare Hasher is a cool little hashing program, but like so many others, is limited in usefulness, as no one really ever verifies their downloads.
Price: Free!
Version discovered: v1.4.4
Supported OS: Windows 2000+
Download size: 45-47KB
VirusTotal malware scan results: 64-bit 0/42 | 32-bit 0/42
Portability: No installation required!
Pismo File Mount
Want to quickly browse a variety of disc images without having to mount them as drives? Pismo File Mount lets you mount disc images exactly how you want them. By default, they simply appear in a list, and you can double click an item to browse it as though it is a folder. If you want more fine-tuned control or need it mounted as a virtual disc drive, it can also do that.
When selecting how to mount an image, be sure to allow read and write privileges, or you'll be stuck with a very useless drive. Pismo also lets you create encrypted "private folders": they have a fairly standard folder icon, but when you double click them, it opens a password prompt.
If you're looking to mount disc images with the added benefit of encrypted private folders, Pismo File Mount is the program for you.
Price: Free!
Version discovered: Build 165
Supported OS: Windows unknown
Download size: 1.8MB
VirusTotal malware scan results: 0/41
Portability: Requires installation
[via Windows.Appstorm]
dotTechies: We have tested all the software listed above. However, Windows Software of the Day articles are not intended as "reviews" but rather as "heads-up" to help you discover new programs. Always use your best judgement when downloading programs, such as trying trial/free versions before purchasing shareware programs, if applicable.
Related Posts