Today's Software
Subscribe to our Windows section to never miss an article: RSS Feed | E-mail
About Windows Software of the Day
Windows has hundreds of thousands of programs. Because of this great volume and lack of a central store, software discovery (aka finding new and useful programs) is extremely difficult. With our Windows Software of the Day initiative, dotTech aims to change that. Everyday we post three programs, allowing our readers to discover new software, daily. Enjoy! [Subscribe to our Windows section to never miss an article: RSS Feed | E-mail]
Developers: Click here to get your apps featured here!
dotTechies: Want to see an app on here? Send us a tip!
Software for July 20, 2012
ScreenSnag
Looking for an unassuming screenshot program with a few hidden features up its virtual sleeve? ScreenSnag is the program you're looking for. Its modest but beautiful interface carefully reveals every last option available, and lets you take screenshots with ease.
ScreenSnag lets you take screenshots of window portions, such as just the sidebar of an application or the download bar of Chrome. This makes pixel guessing a thing of the past, and makes taking screenshots just that much easier. It also lets you do standard screenshot things, such as adding borders, captions, scaling, and opening the image in an external editor.
If you're looking for a new screenshot program, ScreenSnag is a nice one to try. Its ability to clean up Aero borders makes it one of only a few screenshot programs to handle them well, and its great interface is just a joy to use.
Price: Free!
Version discovered: v1.0.0.0
Supported OS: Windows XP+
Download size: 1.5MB
VirusTotal malware scan results: 0/42
Portability: Requires installation
[via AddictiveTips]
MultiMonitorTool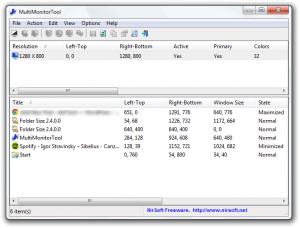 Windows' default multi-monitor support is sketchy at best, supporting only the basic essentials of what's needed to run multiple screens. Nir Sofer of the famous NirSoft website has developed and released a tool called MultiMonitorTool that aims to help solve that by letting you easily manage your screens.
With MultiMonitorTool, you'll see your screens at the top and whatever windows are on the currently selected screen at the bottom. You can move windows using the context menu on them, and can disable/enable monitors the same way. You can also set the default monitor.
MultiMonitorTool also allows you to save configurations for later use, making it fast and convenient to switch between multiple sets of displays frequently. It's a nice program for those out there with multiple monitors, especially since it's portable and thus doesn't screw up the registry at all.
Price: Free!
Version discovered: v1.00
Supported OS: Windows XP+
Download size: 179-192KB
VirusTotal malware scan results: 32-bit 0/42 | 64-bit 0/42
Portability: No installation required!
[via Ghacks]
Folder Size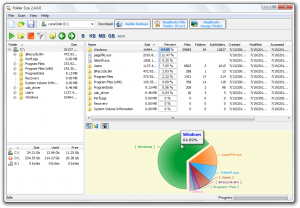 Want to view the structure of files on your disk? Folder Size is a free program that does it and does it well, showing you an easy to read chart breaking down which folders take up the most space.
Folder Size is broken into a few main interface components. The folder browser on the left allows you to select a folder to dive into, while the browser on the right shows the contents of that folder. Your computer's drives are omnipresently available in the bottom left corner, and the entire bottom right side is dedicated to the easy-to-read pie chart.
Of course, Folder Size doesn't only offer pie charts. You can switch between pie and bar with a single click, so if you're in need of more specific information, it's easy to get. If you're looking for a good way to map out drive usage to perhaps save space, Folder Size is definitely a good choice.
Price: Free!
Version discovered: v2.4.0.0
Supported OS: Windows 98+
Download size: 1.6MB
VirusTotal malware scan results: 0/42
Portability: Requires installation
[via Windows.Appstorm]
dotTechies: We have tested all the software listed above. However, Windows Software of the Day articles are not intended as "reviews" but rather as "heads-up" to help you discover new programs. Always use your best judgement when downloading programs, such as trying trial/free versions before purchasing shareware programs, if applicable.
Related Posts