Today's Software
Subscribe to our Windows section to never miss an article: RSS Feed | E-mail
About Windows Software of the Day
Windows has hundreds of thousands of programs. Because of this great volume and lack of a central store, software discovery (aka finding new and useful programs) is extremely difficult. With our Windows Software of the Day initiative, dotTech aims to change that. Everyday we post three programs, allowing our readers to discover new software, daily. Enjoy! [Subscribe to our Windows section to never miss an article: RSS Feed | E-mail]
Developers: Click here to get your apps featured here!
dotTechies: Want to see an app on here? Send us a tip!
Software for July 26, 2012
The Weather Channel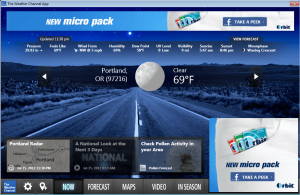 Do you love ads? Do you love the Weather Channel? If you answered yes to both questions, you'll love the official Weather Channel ad distributor app for Windows. It lets you view the current and future weather right from your desktop.
The Weather Channel comes bundled with several toolbars, so be sure you decline those when setting it up. It requires personal information, including gender and year of birth, when setting up as well. After setup, you'll be greeted by a time and seasonally appropriate background displaying the current weather outside.
The bottom buttons allow you to switch through TWC's various modes, including the forecast and various weather maps. It's quite stuffed with ads 24/7, so unless you're itching to be part of a giant scheme to view advertisements, there are better ways to check the weather than an omnipresent app that sits in your system tray sucking up resources.
Price: Free!
Version discovered: v7.03.02
Supported OS: Windows XP+
Download size: 2.3MB
VirusTotal malware scan results: 0/42
Portability: Requires installation
[via AddictiveTips]
UnkleBill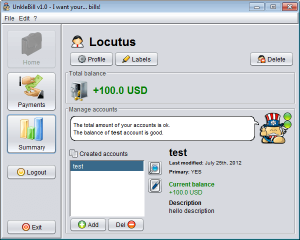 Money! It's something you really need to keep a close eye on. However, it can be tough to find financial software designed for individuals to use to track their money themselves. UnkleBill is one of those hard-to-find applications, and it lets you record all of your various money intakes and outtakes.
When using UnkleBill, you have to be very careful about entering all of your records properly and promptly, as it does not automatically download account data from the internet. However, this has the added benefit of not needing to do data transfer over the internet and thus being more secure.
UnkleBill lets you generate monthly reports showing all of your transactions for a month, as well as your total amounts at the end. You can also add multiple user accounts, enabling multiple people to share one program without having to share data.
Overall, UnkleBill is a little complicated, but if you currently don't have a system for keeping track of your money, you should consider using it.
Price: Free!
Version Discovered: v1.0
Supported OS: All with Java
Download size: 6.7MB
VirusTotal malware scan results: 0/32
Portability: No installation required!
[via AddictiveTips]
Flutter

Looking for the next big way to control your music? Flutter probably isn't it, but it certainly looks futuristic! With Flutter, you can control your music players by simply waving your hand in front of your computer's webcam.
Flutter is actually fairly easy to use in good lighting conditions. You simply hold up your hand to pause or play the music. It begins to degrade quickly with the quality of your camera's video as lighting gets worse, so if you're planning on using it be sure to keep the lights on.
It doesn't matter what media player you're using, either. Flutter supports iTunes, Spotify, WinAmp, and Windows Media Player, which covers the vast majority of music listeners.
Overall, Flutter is a fun little toy but ultimately quite useless. If you want to show off your computer to someone, however, it may be worth a download.
Price: Free!
Version Discovered: v0.1.185
Supported OS: Windows and Mac
Download size: 3.3MB
VirusTotal malware scan results: 0/42
Portability: Requires installation
[via Freeware Genius]
dotTechies: We have tested all the software listed above. However, Windows Software of the Day articles are not intended as "reviews" but rather as "heads-up" to help you discover new programs. Always use your best judgement when downloading programs, such as trying trial/free versions before purchasing shareware programs, if applicable.
Related Posts