Today's Software
Subscribe to our Windows section to never miss an article: RSS Feed | E-mail
About Windows Software of the Day
Windows has hundreds of thousands of programs. Because of this great volume and lack of a central store, software discovery (aka finding new and useful programs) is extremely difficult. With our Windows Software of the Day initiative, dotTech aims to change that. Everyday we post three programs, allowing our readers to discover new software, daily. Enjoy! [Subscribe to our Windows section to never miss an article: RSS Feed | E-mail]
Developers: Click here to get your apps featured here!
dotTechies: Want to see an app on here? Send us a tip!
Software for July 28, 2012
DestroyFlickr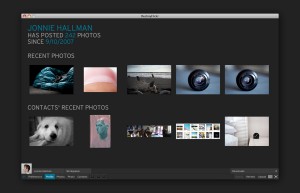 Flickr is a great site for sharing all of your favorite photos and viewing other's photos. If you're looking for a stylish program to manage your Flickr account without having to deal with their website, DestroyFlickr is a nice-looking program that'll fit your needs exactly.
After setting up DestroyFlickr, you'll be greeted with your profile, including your recent photos, and photos uploaded by your contacts. You can switch to viewing just your photos, or just your contact's photos, using the controls in the bottom.
Once you've selected a photo, you can download it, copy its link, edit it, and more. It really does a great job helping you manage your photos and viewing your friend's photos.
DestroyFlickr, despite its ominous name, is a great Flickr client for those not happy with their website.
Price: Free!
Version discovered: unknown
Supported OS: Windows/OS X/Linux with Adobe Air
Download size: 469KB
VirusTotal malware scan results: 0/41
Portability: Requires installation
[via AddictiveTips]
Tomahawk
If you're bored with your current music-playing apps, you might be interested to know about Tomahawk, the most interesting music player on the internet right now.
Tomahawk is no slacker. It's great at integrating web services into your desktop music experience. If you have a Spotify Premium account, you can even stream directly from Spotify. Otherwise, there's always YouTube, Soundcloud, Last.Fm, Dilandau, and any number of other services.
You can also connect with both Twitter and Google Chat from inside Tomahawk, and create playlists and stations galore. These allow you to get similar songs based on what you like, and it has the potential to open you up to new artists you've never heard of.
If you're currently using any other desktop music app, or using an online interface such as Last.Fm or YouTube, I strongly recommend you check out Tomahawk. It's free, integrates beautifully with numerous online sources, and is a pleasure to use.
Price: Free!
Version Discovered: v0.5.5
Supported OS: Windows XP+ | OS X 10.6+ | Linux
Download size: 24.5MB
VirusTotal malware scan results: 1/40
Portability: Requires installation
[via AddictiveTips]
Freehand Painter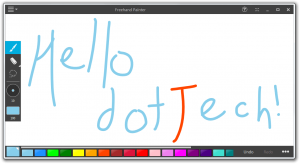 There's something about drawing on non-tablet computers that can make it almost painful. It's the way the lines turn out all jagged, the way nothing ever lines up. However, with Freehand Painter, some of this seems to fall away. Freehand Painter is a vector drawing program designed for use on tablet PCs, but totally usable on desktops and laptops.
Freehand Painter contains a very easy to use interface with large buttons for ease of use on touchscreen devices. It also makes it very easy to use on a laptop or desktop, and significantly reduces the learning curve. You can set colors with the bottom palette, and with the buttons on the right, change paintbrush size and opacity.
When you're done drawing, you can always save your drawings either in vector form (as ISF files) or as rasterized images (BMP, JPG, PNG, etc). Freehand Painter is quite a nice little drawing program for anyone who likes to draw.
Price: Free!
Version Discovered: v0.7
Supported OS: Windows XP+
Download size: 3.2MB
VirusTotal malware scan results: 0/42
Portability: Requires installation
[via Freeware Genius]
dotTechies: We have tested all the software listed above. However, Windows Software of the Day articles are not intended as "reviews" but rather as "heads-up" to help you discover new programs. Always use your best judgement when downloading programs, such as trying trial/free versions before purchasing shareware programs, if applicable.
Related Posts