Today's Apps
Subscribe to our Android section to never miss an article: RSS Feed | E-mail
About Android Apps of the Day
Android has over 450,000 apps. With so many apps out there, app discovery (aka finding new and useful apps) is extremely difficult. With our Android Apps of the Day initiative, dotTech aims to change that. Everyday we post three apps, allowing our readers to discover new apps, daily. Enjoy! [Subscribe to our Android section to never miss an article: RSS Feed | E-mail]
Developers: Click here to get your apps featured here!
dotTechies: Want to see an app on here? Send us a tip!
Apps for July 29, 2012
n7player Music Player
There are tons of music players out for Android right now: WinAmp has one, Google has two, your phone maker's has one, and there are countless 3rd party ones out there all trying to get you to use them. n7player is one of those, and it makes a pretty good case.
n7player features features it claims are "innovative" and "revolutionary". While it's hard to think of features that would truly cause a revolution, it certainly does have some pretty cool features, and it has lots of UI innovations sprinkled throughout.
Perhaps the most central of these UI innovations is the text/album art album viewer. When you're zoomed out, it becomes a field of text with artist's names on it, but when you zoom in, those artists fade away to reveal the individual albums you have on your device. It also includes a stylish lockscreen that lets you manage your music from there.
Since there are so many "innovative" features, n7player's developer created this short video to show you around:

Overall, n7player is a nice music player for those looking for a music player on their device. If you'd rather use cloud music, it's unfortunately not very useful, but if you like to have your music all on your phone, it's definitely a player to check out.
Price: $2.89 with 14-day trial

Version discovered: v1.2.5a
Requires: Android 2.2+
Download size: 2.9MB
n7player Music Player on Play Store
Pixel Rain Live Wallpaper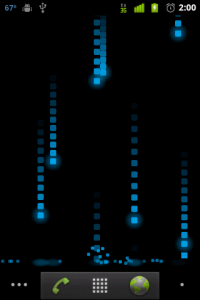 Do you like rain? I personally love the first rain of early fall. It's cool enough to require a jacket, but warm enough that you don't need to have it zipped. Pixel Rain brings that to Android, with a special trick up its sleeve: instead of raindrops, you'll get falling pixels.
Pixel Rain lets you have normal blue raindrops, but you can also add additional colors and change the background color. You can also change the speed, number of drops at one time, size of trail, and more. It's really quite customizable, and can fit on anyone's device.
Personally, I like to have 10 random colors with as many random-sized raindrops as possible. It looks quite good on a brown background, actually. Pixel Rain Live Wallpaper is free and quite customizable: download it today!
Price: Free!

Version discovered: v1.2.4
Requires: Android 2.1+
Download size: 88KB
Pixel Rain Live Wallpaper on Play Store
Fix Broken Power Button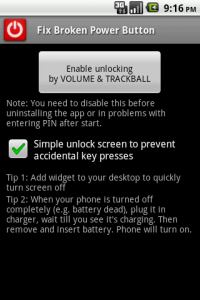 Is your power button broken? Sucks to be you! Luckily, there are apps to hold you over until you can purchase a new device or get your current one repaired. Meet Fix Broken Power Button, a free app that lets you unlock your device with your volume button or trackball.
Fix Broken Power button lets you unlock your screen with your volume button and re-lock it with a simple power widget. Of course, you'll still need to be able to turn your device on if it ever shuts off, so be very careful when letting the battery run low. Otherwise, FBPB is a very simple app for those who unfortunately lost the use of their power button.
Price: Free!

Version discovered: v1.1
Requires: Android 2.2+
Download size: 59KB
Fix Broken Power Button on Play Store
dotTechies: We have tested all the apps listed above. However, Android Apps of the Day articles are not intended as "reviews" but rather as "heads-up" to help you discover new apps. Always use your best judgement when downloading apps, such as trying trial/free versions before purchasing paid apps, if applicable.
Related Posts