Today's Software
Subscribe to our Windows section to never miss an article: RSS Feed | E-mail
About Windows Software of the Day
Windows has hundreds of thousands of programs. Because of this great volume and lack of a central store, software discovery (aka finding new and useful programs) is extremely difficult. With our Windows Software of the Day initiative, dotTech aims to change that. Everyday we post three programs, allowing our readers to discover new software, daily. Enjoy! [Subscribe to our Windows section to never miss an article: RSS Feed | E-mail]
Developers: Click here to get your apps featured here!
dotTechies: Want to see an app on here? Send us a tip!
Software for July 29, 2012
Syd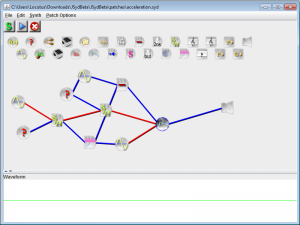 Looking for a cool way to create electronic "music" on your computer? If you're willing to wade around the confusing interface, Syd is a rewarding program that will have you creating music in no time!
To be honest, Syd is quite confusing. If you're not willing to invest time into learning its interface, you probably won't get it. However, if you do invest some time into it, you'll be able to create wacky sound effects using combinations of various filters and sound generators. Each "song" you create is called a patch, and Syd comes with several sample patches to get you started.
Overall, Syd can be very odd. However, it's still quite fun to try adding and reconnecting things to see what they do. A word of warning: Syd doesn't appear to overwrite files, so be sure to delete old exports whenever you try to make changes.
There's a beginner's tutorial available here.
Price: Free!
Version discovered: v1.0.3
Supported OS: Windows/Linux/OS X
Download size: 352KB
VirusTotal malware scan results: 0/43
Portability: No installation required!
mp3DirectCut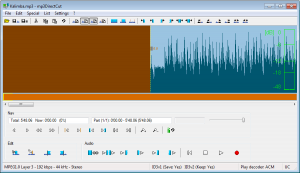 Looking for a way to edit your MP3s, perhaps to make a ringtone? mp3DirectCut is a free program that'll do just that with a fairly easy to use interface.
The first thing to do when using mp3DirectCut is of course to load up an MP3. You can then click and drag on the waveforms to select times, or adjust it precisely using the "Selection" box below.
Using the Edit menu at the top, you can also crop, fade, and normalize the MP3. The best parts about these edits is that they're lossless, meaning you don't lose quality every time you make them. mp3DirectCut does this by not reencoding the file when saving but by simply adjusting various MP3 file settings.
mp3DirectCut is a program without many features, but with enough to make it useful. If you're looking for a more powerful program, Audacity is a good choice, but it comes at the cost of user friendliness.
Price: Free!
Version Discovered: v2.16
Supported OS: Windows; Linux with WINE
Download size: 283KB
VirusTotal malware scan results: 0/41
Portability: Installation optional!
[via MakeUseOf]
Free Screen Capturer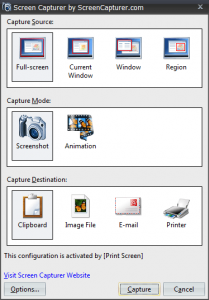 Looking for a free screenshot and screencast program? Free Screen Capturer is a program that rolls both of those into one.
When installing Free Screen Capturer, you'll need a free registration key. The registration is free but requires a valid email address, so use a service like Mailinator. After registration, you can get started!
Free Screen Capturer lets you take various screen capture types. There are full screen captures, window captures, and region captures, but no scrolling captures like some programs offer. Where it's really good is in screencasts. It allows for the same options, meaning you can record just a portion of your screen at a time.
I tried recording some YouTube videos with FSC to check its quality. To tell the truth, there are much better screen capture programs out there, but Free Screen Capture can certainly do the job if needed.
Overall, FSC is a nice program for getting your screenshots and screencasts in one program, but it really isn't top class in either category. It doesn't allow Aero or scrolling screenshots, and it doesn't capture the best video, but it'll do in most situations.
Price: Free!
Version Discovered: unknown
Supported OS: Windows unknown
Download size: 12.6MB
VirusTotal malware scan results: 0/40
Portability: Requires installation
[via AddictiveTips]
dotTechies: We have tested all the software listed above. However, Windows Software of the Day articles are not intended as "reviews" but rather as "heads-up" to help you discover new programs. Always use your best judgement when downloading programs, such as trying trial/free versions before purchasing shareware programs, if applicable.
Related Posts