Today's Software
Subscribe to our Windows section to never miss an article: RSS Feed | E-mail
About Windows Software of the Day
Windows has hundreds of thousands of programs. Because of this great volume and lack of a central store, software discovery (aka finding new and useful programs) is extremely difficult. With our Windows Software of the Day initiative, dotTech aims to change that. Everyday we post three programs, allowing our readers to discover new software, daily. Enjoy! [Subscribe to dotTech to never miss an article: RSS Feed | E-mail]
Developers: Click here to get your apps featured here!
dotTechies: Want to see an app on here? Send us a tip!
Software for August 1, 2012
Desktop Background Tuner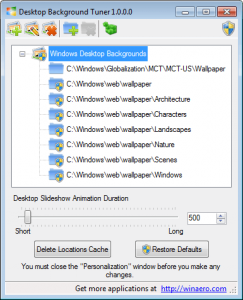 Windows has had historically very little choice in setting your desktop background. Windows 7 made it better, allowing you to choose and sort multiple images, but it doesn't take into account one major part of where photos are stored: Desktop Background Tuner allows you to set photos from multiple folders as your desktop background. Adding folders is fairly simple. You just click the Plus button in the top left and select Folder. You can also add photos by author, comment, date, and more, but Folders is what we're after. You then have to select the folders you want in the group. After selecting the folders you want in the group, you're almost done. Go to the standard desktop preferences and go to Desktop Background. Under the dropdown menu, you'll see your newly created folder group. You're done! Though not many people ever face this problem, it's nice to know that if you really want to include multiple folders worth of photos as your background rotation it's entirely possible with Desktop Background Tuner.
Price: Free!
Version discovered: v1.0.0.0
Supported OS: Windows 7+
Download size: 223KB
VirusTotal malware scan results: 0/41
Portability: No installation required!
Desktop Background Tuner homepage
[via AddictiveTips]
Smart PC Locker Pro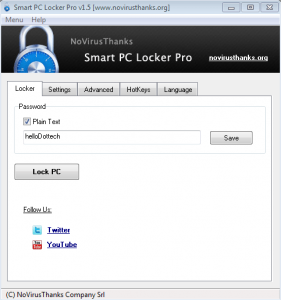 Looking for a way to secure your system while you're away from the keyboard? Windows has a built-in lock screen, but Smart PC Locker Pro is both more customizable and more powerful.
With Smart PC Locker Pro, external media is automatically disabled until you unlock your computer. That's not all, though. It can also disable the task manager and do several other cool things.
There are also some cool advanced features in Smart PC Locker. You can, for instance, set it to shut down Windows after repeated bad attempts. This would've actually helped speed me up, as while I was testing I somehow managed to lose track of my password and I had to reboot my computer.
If you're looking for a way to better protect your computer, Smart PC Locker Pro is definitely a program to check out.
Price: Free!
Version Discovered: v1.5
Supported OS: Windows all
Download size: 1.2-1.3MB
VirusTotal malware scan results: portable 0/40 | installer 0/40
Portability: Portable version available!
[via Freeware Genius]
InstallGuard
The place: your computer
The time: you've just booted it up
The issue: random software's been installed that you don't remember ever installing! With InstallGuard, you can disable installation without a password with ease.
InstallGuard is an easy to use program. You decide upon a password required for installation and you're done! It even supports multiple users, so you can limit certain accounts that are otherwise administrative so they can't install a thing. It also keeps track of installs per day, currently installed programs, and more.
However, the utility of InstallGuard is a little iffy. After all, if you're going to revoke installation rights, why not just revoke administrative rights? There's not too much more, other than system settings, that having administrative rights even gives you. If you're set on giving someone admin without installation rights, InstallGuard would be the program for you.
Price: Free!
Version Discovered: v0.9 Beta
Supported OS: Windows XP+
Download size: 1.8MB
VirusTotal malware scan results: 0/41
Portability: Requires installation
[via AddictiveTips]
dotTechies: We have tested all the software listed above. However, Windows Software of the Day articles are not intended as "reviews" but rather as "heads-up" to help you discover new programs. Always use your best judgement when downloading programs, such as trying trial/free versions before purchasing shareware programs, if applicable.
Related Posts