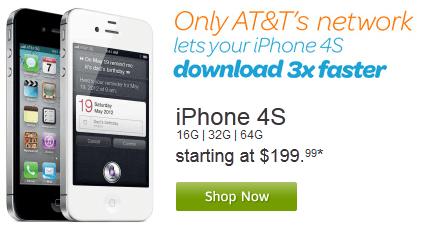 AT&T was the first carrier worldwide to feature the iPhone and was the exclusive telecom in the United States to offer the device until about two years back. 72% percent of all smartphones activated on AT&T's network in Q2 2012 were iPhones. It is safe to say AT&T is has a strong relationship with Apple, strongly depending on iPhone sales to further grow its smartphone subscribers base. Reports are emerging AT&T is looking to be mitigating this over dependence on the iPhone by instructing sales representatives to attempt to steer customers to Android and Windows Phone over the iPhone.
Quoting "independent sources", BGR is reporting AT&T regional managers have been telling their sales staff to push customers to Android and Windows Phone devices over the iPhone. Even if a customer specifically comes into a store to purchase an iPhone, sales reps are instructed to show Android and Windows Phone devices before selling the iPhone so consumers can "make an informed decision". This report is being corroborated by commentators who claim to be current or ex AT&T sales staff, claiming this has been going on since AT&T lost exclusivity to the iPhone.
For its part, AT&T has issued a statement denying the charges:
The idea that we would steer any customer away from a particular device couldn't be more farfetched.  Our reps do what it takes to align customer needs with the best device for them.  iPhone remains one of our most popular devices, which doesn't happen by steering people away from it. Our reps are encouraged to try all devices so they are more knowledgeable on our industry-leading smartphone lineup.
Despite AT&T's denial, in my opinion it makes sense for AT&T to push customers away from the iPhone. Firstly, AT&T makes less money on sales of the iPhone than it does other devices because AT&T must purchase the devices at a higher cost from Apple than Android or Windows Phone devices from other manufacturers. Secondly, for a business to be overdependent on a specific third-party brand or product is never a good thing. What if Apple suddenly went bankrupt, or more likely, what if Apple decided to raise prices? What would AT&T and their 72% activations do then? Lastly, iPhone demand is so high that they are selling off the selves without AT&T needing to work towards moving them; so why not try to get customers to buy other products that provide AT&T with larger margins? Worse case scenario, customers will continue to buy iPhone which is the predicament AT&T is in already; best case scenario, AT&T's dependence on the iPhone is significantly lowered.
Whatever the truth may be, it will be interesting to see how Apple reacts to this news. React you can also, in the comments below.
[via BGR]
Related Posts