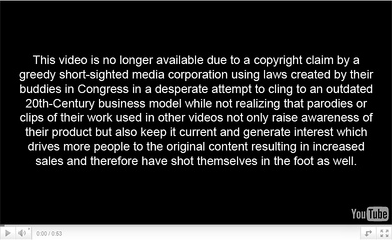 Ever watch a copyrighted video (movie, TV episode, etc.) on an online streaming website, such as Youtube? Maybe you have watched those videos on websites that exist for the sole purpose of embedding copyrighted videos from online streaming websites, or maybe you have embedded copyrighted videos on a website yourself. In both cases, the United States Judiciary has your back.
myVidster, a "social video bookmarking service", was sued in 2010 by Flava Works (an "entertainment" company — let's leave it at that). In 2011 Flava Works convinced a lower court to issue an injunction against myVidster. myVidster, of course, appealed the decision and now a  Seventh Circuit Court of Appeals has ruled in favor of myVidster.
On Thursday Judge Richard Posner of the Appeals Court overturned the ruling of the lower court, effectively stating that embedding copyrighted videos is not copyright infringement in and of itself because the website which has the embedded video does not touch the data stream:
"myVidster is giving web surfers addresses where they can find entertainment. By listing plays and giving the name and address of the theaters where they are being performed, the New Yorker is not performing them. It is not "transmitting or communicating" them… myVidster doesn't touch the data stream, which flows directly from one computer to another, neither being owned or operated by myVidster."
Aside from handing victory to all video embedders everywhere (in the USA), Judge Posner also issued a statement in favor of the average Joe, ruling that watching copyrighted videos is not copyright infringement:
"But as long as the visitor makes no copy of the copyrighted video that he is watching, he is not violating the copyright owner's exclusive right… His bypassing Flava's pay wall by viewing the uploaded copy is equivalent to stealing a copyrighted book from a bookstore and reading it. That is a bad thing to do (in either case) but it is not copyright infringement."
It should be mentioned that while both situations, embedding copyrighted videos and viewing copyrighted videos, have been declared to be non-infringing, that does not necessarily make both actions "legal". Judge Posner states embedding or viewing of copyrighted streaming videos is not copyright infringement — he doesn't explicitly declare it legal, which leaves the door open for the potential repercussions under other laws (whatever they may be).
Unless this ruling is overturned by a higher court (i.e. Supreme Court), this is what can be considered a landmark judgment in the age of Internet 2.0; it will obviously set a precedent for future copyright infringement cases and may change how people pirate movies and TV shows — torrenting vs streaming. Of course this will also put further pressure on video streaming websites, such as Youtube, to cut down on copyrighted videos which may result in more stringent uploading rules. Who knows, let's see what happens.
[via GigaOm | Image credit: shane_d_k]
Related Posts