Today's Software
Subscribe to dotTech to never miss an article: RSS Feed | E-mail
About Windows Software of the Day
Windows has hundreds of thousands of programs. Because of this great volume and lack of a central store, software discovery (aka finding new and useful programs) is extremely difficult. With our Windows Software of the Day initiative, dotTech aims to change that. Everyday we post three programs, allowing our readers to discover new software, daily. Enjoy! [Subscribe to dotTech to never miss an article: RSS Feed | E-mail]
Developers: Click here to get your apps featured here!
dotTechies: Want to see an app on here? Send us a tip!
Software for August 10, 2012
HibernateOnPowerFail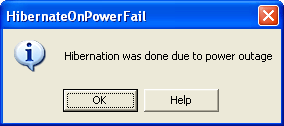 If your computer has an almost-dead battery, there's really not much use for it other than as an emergency power battery. HibernateOnPowerFail is just the app for anyone with such a laptop: it'll automatically hibernate your computer if it gets unplugged, or if the power goes out.
Of course, such behavior is only useful if your battery really only lasts a few minutes. However, there's a growing selection of computers with such dead or dying batteries, and those that do can continue to use their batteries as a sort of safe, controlled shutdown feature.
To install HibernateOnPowerFail as a service, right click it and run it as an administrator. Otherwise, you will need to start it up again each time you turn off your computer or log out of your account. If your battery is almost dead, do yourself a favour and install HibernateOnPowerFail.
Price: Free!
Version discovered: unknown
Supported OS: Windows 
Download size: 15KB
VirusTotal malware scan results: 0/42
Portability: Portable option available!
[via AddictiveTips]
Picturethrill
There are some absolutely stunning Photo of the Day sites out there, and many of them suffer from a lack of viewership. Picturethrill is an awesome app that lets you set your wallpaper daily from these amazing sites.
Picturethrill supports a multitude of websites. Do you like general photos? Bing will do you just fine. Astronomy? NASA has a feed for you. Earth science? Bingo! Nature? Check. National Geographic photos? Right there! The range of websites is great, as if you like any kind of science at all, it'll have a feed for you. You just select the one you want and click wallpaper. It'd be nice if multiple sites were supported, but even as it is right now, it's great.
Picturethrill is an awesome app, and the developer plans on making both Mac OS X and Android versions of the app. This is a great app for anyone interested in space, science, or the planet we live on.
Price: Free!
Version discovered: v2.7.4.0
Supported OS: Windows unknown
Download size: 1.2MB
VirusTotal malware scan results: 2/41
Portability: Requires installation
[via Ghacks]
Photoscape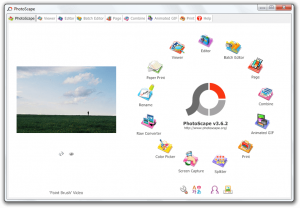 There are a thousand million billion photo editing programs out there, including the venerable Photoshop and the awesome GIMP. Photoscape is yet another program attempting to grab some marketshare, and they've topped it off with some pretty nice features to get you hooked.
Photoscape integrates tons of different components into one app. You've got a viewer, an editor, a batch editor, an animated GIF creator, a page merger, an image combiner, a screen capturer, a printer, a splitter, a color picker, a file renamer, a RAW converter, a face searcher, a faux-paper printer, and probably even more that I couldn't be bothered to find. Compare this to other photo editors: while a Photoshop magician could probably do any of these things in 20 seconds, it'd require a lot of practice to do any of these things well. With Photoscape, you can do them all, quickly and efficiently.
Its editor, while not as robust as Photoshop or GIMP, is quite handy too. It features the usual crop and resize options, as well as a few styling effects such as bloom, sharpen, and more. If you've ever wanted to make a fake tilt-shift photo, Photoscape can do it for you.
Overall, Photoscape is a very robust program that prides itself on its ease of use over GIMP and Photoshop. If you're not planning on making your living doing design or photography, it'll probably cover the majority of your needs with great ease.
Price: Free!
Version discovered: v3.6.2
Supported OS: Windows NT+
Download size: 17.5MB
VirusTotal malware scan results: 0/42
Portability: Requires installation
[via Windows.Appstorm]
dotTechies: We have tested all the software listed above. However, Windows Software of the Day articles are not intended as "reviews" but rather as "heads-up" to help you discover new programs. Always use your best judgement when downloading programs, such as trying trial/free versions before purchasing shareware programs, if applicable.
Related Posts