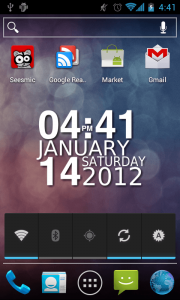 If you have an Android phone, you've probably heard of CyanogenMod. It's the aftermarket firmware for dozens of phones that is constantly being tweaked and improved to run faster, better, and more up to date.
(As a bonus you'll never get carrier bloat like CarrierIQ.)
However, until Friday, CyanogenMod has been stuck at version 7.2, which was based off of Android 2.3.7 Gingerbread. This meant that it had no tablet-specific apps and other Ice Cream Sandwich features like a thumbnail-based app switcher, quick folders, the beautiful Holo theme, and a new look and feel. Now, however, CyanogenMod 9 has been released and not only does it have all what was just mentioned but it also includes a new app launcher, as well as an omnipresent search box and many other small changes meant to make Android more beautiful. (Oh, and YouTube finally doesn't look bad.)
Here's what's new in CyanogenMod 9:
Ice Cream Sandwich, baby!
Of course, a lot of the devices supported by CyanogenMod 9, such as the Motorola Atrix, are stuck forever on Android 2.3 Gingerbread, or even Android 2.2 Froyo. Since CyanogenMod doesn't care about when manufacturers stop updating their devices, even devices as old as the original Galaxy S are getting fast, stable Ice Cream Sandwich releases.
What's so cool about Ice Cream Sandwich, though? It's beautiful, fast, and easier to use than any other previous version of Android. You can have your phone automatically disable data usage after you use up a certain amount–great for making you don't go over your data plan. It also features a  more useful notification shade, in which you can just swipe away notifications you don't want.
You can read all about what's new in Ice Cream Sandwich right here.
A better lockscreen
Of course, CyanogenMod 9 isn't all about looks. It's also about functionality. That's why they've developed a much-improved lockscreen.
With this improved lockscreen, you can do tons of things. As you can see here, I've got a calendar event for today plopped elegantly right below the clock: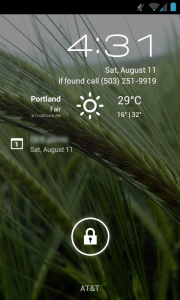 I've also got today's weather on the screen, showing an icon of the weather, the current temperature, the high, and the low. If I were to tap on the lock icon, I'd get quick access to my four top apps such as Camera, Twitter, Google Reader, and Gmail, as you can also set quick shortcuts to apps, bookmarks, and more.
Less bloat than original and CM7 ROMs
Any phone can start to feel slow after a while. However, on a lot of phones it's because the manufacturer added badly optimized, poorly written skins in an attempt to be competitive. If you open your launcher and see Amazon MP3, ESPN, and a whole bunch of other apps you never wanted and have to use, then you're going to love CyanogenMod.
If you're coming from CyanogenMod 7, on the other hand, you're still getting a leaner machine. CyanogenMod 9 is not only about bringing Ice Cream Sandwich to the masses, it's about simplifying and putting "more emphasis on the User Experience (UX)". Take a look at the less bloat-y main menu on Alpha 0 for HP Touchpad: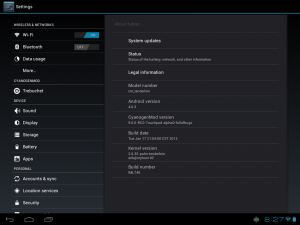 This is the tablet version of Settings, and the experience carries over just as well to the phone version. Everything is laid out intelligently, with easy access to launcher and device settings.
A new launcher, Trebuchet
Trebuchet is the new homescreen in CyanogenMod 9. It's based off of the stock ICS launcher, which means that it supports the new features like the widgets in the app launcher, the better animations, and the omnipresent search bar. It looks something like this: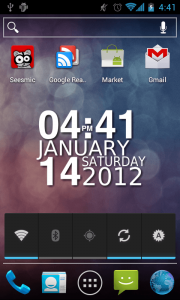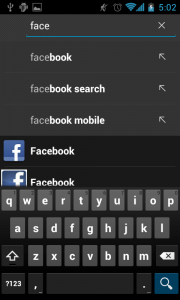 While not a huge difference from Android 2.3 and its older friends, it's a thousand times more usable. You can create folders by simply dragging one app onto another app, à la iOS: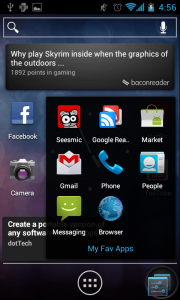 You also have the new tabs in the launcher part where you can swipe left and right between Apps and Widgets: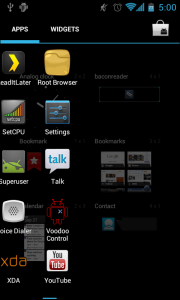 Another much-heralded feature is the ability to change widgets, which was actually already present in ADW Launcher, the launcher used by CyanogenMod 7: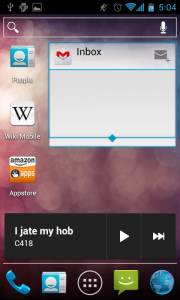 Lots of other things
Of course, there are tons of other little tweaks included in CyanogenMod. It has notification toggles built-in, and its famous theme engine. This theme engine allows you to download themes to customize your entire OS, allowing you to have some weird Holo-Sense mashup.
Installing CyanogenMod
So you've decided to take the plunge and install CyanogenMod on your device? Head over to dotTech's Installing CyanogenMod. Depending on your skill level, this could take as little as 20 minutes.
Are you looking forward to getting Ice Cream Sandwich on your device, or are you already anxiously flashing Jelly Bean ROMs? Discuss what ROM you currently run in the comments below!
Related Posts