Today's Apps
Subscribe to dotTech to never miss an article: RSS Feed | E-mail
About iOS Apps of the Day
iOS has over 600,000 apps. With so many apps out there, app discovery (aka finding new and useful apps) is extremely difficult. With our iOS Apps of the Day initiative, dotTech aims to change that. Everyday we post three apps, allowing our readers to discover new apps, daily. Enjoy! [Subscribe to dotTech to never miss an article: RSS Feed | E-mail]
Developers: Click here to get your apps featured here!
dotTechies: Want to see an app on here? Send us a tip!
Apps for August 14, 2012
eWeather HD – Weather Forecast Premium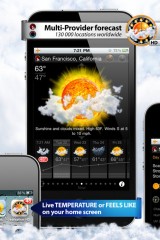 eWeather HD is a visually stunning, full-featured weather application. In a genre that boasts so many offerings on the App Store, it is tough to find a weather app that stands out, but that is exactly what eWeather HD accomplishes. This app will give you instant access to current conditions plus detailed 10-day and 24-hour forecasts for 130,000+ locations worldwide. eWeather HD provides animated rain/snow radar maps anywhere in the United States, with several variations for the user to change. The app allows the user to track temperature/weather changes, as well as weather advisories/warnings by way of push notifications. Another nice offering by eWeather HD is a constantly updating temperature badge on your home screen so that you know the temperature without even opening the app.
I am a weather connoisseur, so I have have tested many apps in this genre on my iPhone, but none of them even compare to eWeather HD. All of the above features are absolutely fantastic, but the most appealing part of the app is actual in its breathtaking design. There aren't many more visually appealing and well-designed apps in the entire App Store, let alone the weather genre of apps. All you need to do is check out the hourly forecast clock they created to see that. Along the way, I have also contacted the developer about adding features and they have done so with all of my suggestions. In reality, the only user that wouldn't like this app, is someone who wants simplicity and the bare minimum in their weather app.
Price: $1.99

Requires: iPhone/iPod Touch/iPad; iOS 3.2 and up

Download size: 16.9 MB
eWeather HD – Weather Forecast Premium on iTunes
Speedometer GPS+ – Car Speedometer, Bike Cyclometer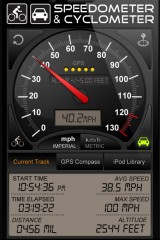 Speedometer GPS+ is a car speedometer and bike cyclometer in one. It provides a nice dashboard speedometer/cyclometer that can be used to track your speed, path, and location. The main user-interface provides start time, time elapsed, distance, average speed, maximum speed, and altitude for any car/bike trip the user takes. You also have the ability to switch between mph and km/h. There is a compass provided as well.
I have tested many apps in this genre (i.e. vehicle dashboard) and they all share one thing, accuracy issues. I am not sure any app can be perfectly accurate at calculating speed, so accuracy problems are bound to happen. I found that Speedometer GPS+ did a fairly good job and at tracking speed and pinpointed my location quickly and accurately.
Price: Normally $2.99, but FREE for 3 days!

Requires: iPhone/iPod Touch/iPad; iOS 4.0 and up

Download size: 2.9 MB

Speedometer GPS+ – Car Speedometer, Bike Cyclometer on iTunes
SpellTower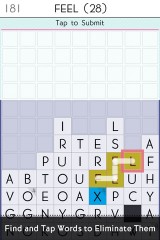 SpellTower is one of the top word games in the App Store. The combination of game-play and stylish design makes it tremendously addictive. The goal of the game is to basically find and swipe (or tap) words (or use bonus tiles) to clear letters from the screen. There are 5 fantastic modes, each of which provide a different experience. The first is tower mode, where you try and get the highest score possible out of 150 letters. Puzzle mode and extreme puzzle mode are fun because you are preventing the letters from reaching the top despite that fact that every word you make adds a new row of letters.  Rush mode features letters building up over time, which means you need to find words as fast as you can. The final mode, debate, allows you challenge your friends to an intense local multiplayer mode. Overall, this is a fantastic app.
Price: $1.99

Requires: iPhone/iPod Touch/iPad; iOS 4.2 and up

Download size: 16.5 MB

dotTechies: We have tested all the apps listed above. However, iOS Apps of the Day articles are not intended as "reviews" but rather as "heads-up" to help you discover new apps. Always use your best judgement when downloading apps, such as trying trial/free versions before purchasing paid apps, if applicable.
Related Posts