Today's Software
Subscribe to dotTech to never miss an article: RSS Feed | E-mail
About Windows Software of the Day
Windows has hundreds of thousands of programs. Because of this great volume and lack of a central store, software discovery (aka finding new and useful programs) is extremely difficult. With our Windows Software of the Day initiative, dotTech aims to change that. Everyday we post three programs, allowing our readers to discover new software, daily. Enjoy! [Subscribe to dotTech to never miss an article: RSS Feed | E-mail]
Developers: Click here to get your apps featured here!
dotTechies: Want to see an app on here? Send us a tip!
Software for August 14, 2012
ClipSync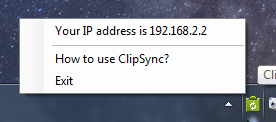 There's something rather odd about Android. For all of the synchronization built into the platform, why is there no good way to synchronize simple things like the clipboard? Until ClipSync, that was but a pipe dream. Now, you can sync the two with great ease.
ClipSync is very easy to use. First, install it on your computer. It runs invisibly in the background and has no settings whatsoever. Then, install the app on your phone or tablet and open it. Select New Server and find your clip server. Repeat the last two steps for any devices you want to connect–go on, it's limitless! Now, you're ready to save the world–wait, what?!
It's easy to use and, coupled with the video above, is great fun. If you've got an Android device, there's no reason to not use ClipSync: it's free, it's fast, and it's quite useful.
Price: Free!
Version discovered: v1.2
Supported OS: Windows; Mac & Linux coming soon
Download size: 902KB
VirusTotal malware scan results: unknown
Portability: Requires installation
[via AddictiveTips]
Image Resize Guide Lite
"Wow," you tell yourself, "that sure was a nice vacation to [place I wanted to vacation to]! Now let's look at the pictures I took."
Upon opening the pictures, you notice something went horribly, horribly wrong: there's a random person in the background of each and every one of them! Image Resize Guide Lite is a free program to remove unwanted pieces from photos by removing lines of least importance.
Image Resize Guide Lite makes use of a technique called seam carving to remove unwanted distractions: it's what they call a smart resize. Unfortunately, access to this tool is limited in the free version, and I was able to access it only one of the two times I tried to use it. When it did work, it worked quite well, and was able to remove much more of photos than I thought before turning them into jelly.
My recommendation? Don't bother with the payware. It may look nice, but at the end of the day, it's not worth potentially installing bloatware or even accidentally installing adware when a perfectly good webapp will suffice. Instead, use the free webapp Rszir.
Note: be sure to download the Lite version from the bottom of the page!
Be sure to uncheck bundled adware when installing. 
Price: Free with $45 upgrade
Version discovered: v1.3
Supported OS: Windows 
Download size: 3.4MB
VirusTotal malware scan results: 0/41
Portability: Requires installation
[via AddictiveTips]
PNG Gauntlet
There are numerous programs out there to compress PNGs to their minimum size. There's previously covered PNG Crush, for instance, which uses the pngcrush algorithm to smush the files as far as they'll go. However, PNG Gauntlet is different: it uses a combination of three algorithms, virtually guaranteeing that the files will end up as tiny as is humanly (machinely?) possible.
It's easy to use, too. With PNG Gauntlet, you just drag and drop the files you want compressed in, and then select a destination folder. If you're feeling daring, you can always just overwrite the files when it's done compressing. I compressed the last several day's worth of WSotD screenshots, and from 5MB of screenshots I saved 0.9MB. It took quite a while to do this: 25 minutes. It's really not noticeable, unless you're the host of a (semi)popular website who's looking to save on bandwidth.
Overall, PNG Gauntlet is a good but slow program, and while it would be nice to save more space with it, it's perfectly acceptable to save a few kilobytes here and there. It's not really a program for mere desktop users, but if you run a server you may notice a decrease in load times and weights after running it.
Price: Free!
Version discovered: v3.1.2
Supported OS: Windows only
Download size: 901KB
VirusTotal malware scan results: 0/42
Portability: Requires installation
[via Ghacks]
dotTechies: We have tested all the software listed above. However, Windows Software of the Day articles are not intended as "reviews" but rather as "heads-up" to help you discover new programs. Always use your best judgement when downloading programs, such as trying trial/free versions before purchasing shareware programs, if applicable.
Related Posts