Today's Software
Subscribe to dotTech to never miss an article: RSS Feed | E-mail
About Windows Software of the Day
Windows has hundreds of thousands of programs. Because of this great volume and lack of a central store, software discovery (aka finding new and useful programs) is extremely difficult. With our Windows Software of the Day initiative, dotTech aims to change that. Everyday we post three programs, allowing our readers to discover new software, daily. Enjoy! [Subscribe to dotTech to never miss an article: RSS Feed | E-mail]
Developers: Click here to get your apps featured here!
dotTechies: Want to see an app on here? Send us a tip!
Software for August 20, 2012
NCollector Studio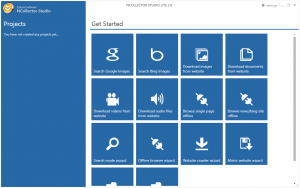 Are you looking for a good way to automatically download images, documents, or videos from a website? Perhaps you want to download a YouTube video, or download an entire website to browse offline. Either way, NCollector Studio is a great way to get all of your favorite Internets onto your tiny little computer.
The Lite version of NCollector Studio allows you to download images, videos, documents, or whatever else you want from the internet. It even supports entire image sources, and downloading data from websites. However, there's more to download than just images and documents. Sometimes you simply want to download an entire website. NCollector Studio allows for that as well, allowing you to download either a single webpage, or an entire blog or news site.
Overall, NCollector Studio is a great downloading tool for downloading images, documents, and even entire websites. The full version costs $2.95 per month, $29.95 per year, or simply $49.95 for a lifetime license. It allows you to scan deeper into websites and download more pages, and better keyword filtering.
Price: Lite version or paid ($2.95/mo or $49.95 lifetime) upgrade
Version discovered: v2.0.0.2382
Supported OS: Windows unknown
Download size: 12.3MB
VirusTotal malware scan results: 0/41
Portability: Requires installation
[via AddictiveTips]
Desktop Movie
Are you annoyed that you can't set a video as your background? Be annoyed no further! Desktop Movie lets you set any video file you want as your background. It even supports transparent icons, meaning you don't get the annoying black borders around icons.
Desktop Movie is very easy to use. When it starts up, it'll ask you for one or multiple video files. It'll play them in the order you selected them, and go through them one by one. If you close it, it'll automagically restore your wallpaper. Or, if you let the video finish, it'll just keep on looping ad infinitum.
If you're looking for a way to play a video as your desktop wallpaper, for whatever reason, Desktop Movie is a great way to do it. Note that it does not work under Windows 8, which is annoying but to be expected due to the changes to window rendering.
Price: Free!
Version Discovered: v2.0
Supported OS: Windows XP+ | does not work in Windows 8
Download size: 304KB
VirusTotal malware scan results: 0/41
Portability: No installation required!
[via Freeware Genius]
MetroTwit
There are some places where one wants to use the Twitter web interface, but on a beautiful, shiny new tablet is not one of them. Instead, use MetroTwit: it's a beautiful new Metro not-Metro Twitter app that's great with both keyboard and mouse, and with a touchscreen.
MetroTwit is an amazing Metro not-Metro app. Unlike the rest of the Metro not-Metro apps that we've featured in the last few days, it pushes the bounds for function and design. It doesn't strictly stick to the Metro not-Metro guidelines, and it shows: it takes all the best parts, and augments it with its own beautiful design. It's incredibly easy to use, and has all the features you'd expect in a Twitter client, and wraps it in a beautiful interface.
If you're looking for a beautiful and fully-functional Twitter client for Windows 8 and Windows RT, MetroTwit is a great app for you. It pushes the limits of both Twitter client and Metro not-Metro app design, and is overall a pleasure to use. It really does away with the feeling I've been getting from Metro non-Metro on my laptop as being trapped in a box.
Price: Free!
Last updated: N/A
Supported processors: x86/x64/ARM
Download size: 697KB
dotTechies: We have tested all the software listed above. However, Windows Software of the Day articles are not intended as "reviews" but rather as "heads-up" to help you discover new programs. Always use your best judgement when downloading programs, such as trying trial/free versions before purchasing shareware programs, if applicable.
Related Posts