So you are in Windows 8 and can't get over the lack of a traditional Start Menu. You just want your damn menu back and you don't care what you have to do to get it. There is a simple "Start Menu" you could add to your Windows 8 installation without having to download any third-party program. However, if you are not satisfied with the dumbed-down nature of that menu, the following are two programs you can use to add a fully-functional Start Menu to Windows 8.
Table of Contents
ViStart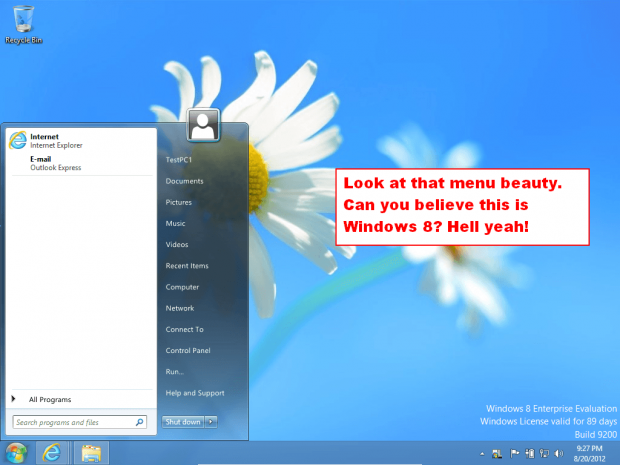 ViStart is a small, no-frills program that adds a Windows 7-like Start Menu to Windows 8 (it also supports Windows 7, Vista, and Windows XP but why anyone would need it on Windows 7/Vista/XP I'm not sure). ViStart is extremely simple to use. All you do is install it and go; aside from being able to download skins for the menu, ViStart has no options for you to mess around with — it just works. It even maps the Windows key on your keyboard to open ViStart's Start Menu as opposed to opening Windows 8's Start screen and sets itself to automatically turn on upon Windows boot.
Having no options does hurt ViStart, however, in one area. While ViStart maps the Windows key to open ViStart's Start Menu, there is no option to set another hotkey to open Windows 8's Start screen. While we may not like it, there may be times when we need to use Windows 8's Start screen and ViStart effectively kills the hotkey that is used to call that screen without providing a replacement.
Also, take note the website to download ViStart's skins is ad-filled so be sure not to accidentally click on them, and during installation ViStart prompts you to install Babylon toolbar, change your homepage, and set Babylon as your default search engine…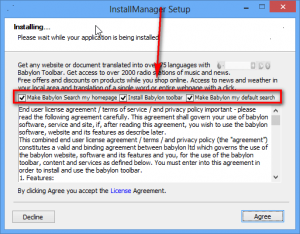 …and to install CouponDropDown: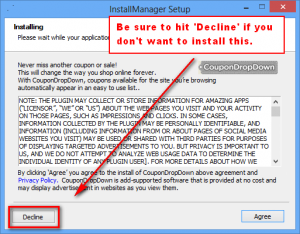 Be sure to not accidentally fall into the crapware trap, if you decide to go with ViStart.
If you want like the functionality of ViStart but don't like the lack of options, then give the next program a try, Classic Shell.
Classic Shell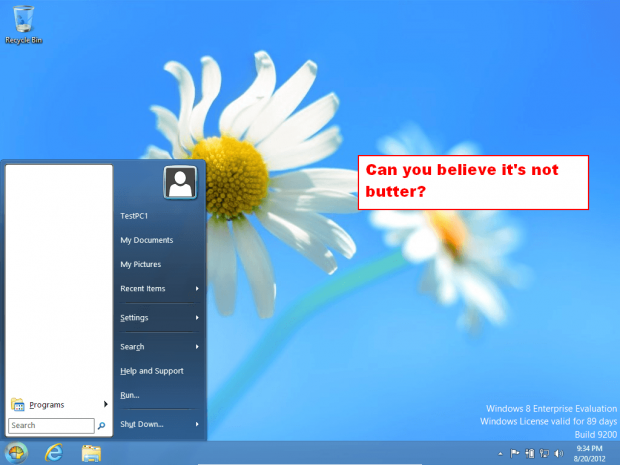 Classic Shell, which has been covered on dotTech before, is an open-source program that allows users to add a Start Menu to Windows 8, Windows 7, and Windows Vista. Why exactly does Classic Shell support Windows 7 and Windows Vista when those already have Start Menus? Because Classic Shell allows users to pick between a classic style, a Windows XP style, or Windows Vista/Win7 style Start Menu. So while it is probably more useful for Windows 8 users who don't have a Start Menu at all, Windows 7/Vista users can use Classic Shell to get a different type of Start Menu, if desired.
Compared to ViStart, Classic Shell is feature filled and still very easy to setup. After installation Classic Shell all you have to do is select the type of Start Menu you want and you are golden; you never have to mess with any other settings, if you don't want to. If do, however, venture into Classic Shell's options, you will find the ability to customize hotkeys (Classic Shell automatically maps the Windows key to open Classic Shell's Start Menu but also makes Shift + click and Shift + Win the methods to open Windows' Start Menu/Start screen, so you aren't left in the dust like with ViStart), enable/disable Control Panel, Favorites, Recent Documents, recent files, and the search box from the Start Menu, enable/disable Classic Shell's ability to force Windows 8 to automatically skip past the Start screen upon boot, and skin Classic Shell. Yes, Classic Shell has the ability to make your Windows 8 bypass the Start screen and automatically go to Windows 8 desktop upon boot.
Take note Classic Shell actually consists of three programs, Classic Explorer, Classic Start Menu, and Classic IE9. Classic Start Menu is what I have been discussing; Classic Explorer adds a bar to Windows Explorer which adds a few easy-to-access buttons, and Classic IE9 which allows users to customize IE9's title bar. If you don't want Classic Explorer and Classic IE9 and just want Classic Start Menu, be sure to disable Classic Explorer and Classic IE9 during installation so that they don't install: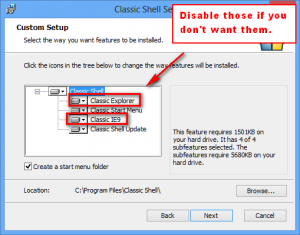 Conclusion and Download Links
ViStart and Classic Shell are both excellent programs for adding a Start Menu to Windows 8. Personally speaking, I like Classic Shell (especially since it is crapware free and has the ability to force Windows 8 to go directly to Windows 8 desktop upon boot), but ViStart has its advantages, too, such as being smaller in size and requiring no setup. Whichever one you pick, they will serve you well.
You can grab ViStart and Classic Shell from the links below. As far as I know, they aren't available in Windows 8 Store so you have to download them from the developers' websites.
ViStart
Version reviewed: v2.0.0 Build 3866
Supported OS: Windows 8, Windows 7, Vista, XP
Download size: 599 KB
Virustotal scan results: 2/41
ViStart homepage [direct download]
Classic Shell

Version reviewed: v3.6.1
Supported OS: Windows 8, Windows 7, Vista

Download size: 8.3 MB
Virustotal scan results: 0/42
Classic Shell homepage [direct download]
Related Posts