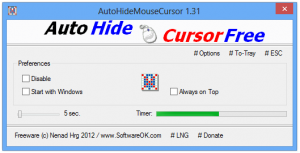 Is your mouse cursor bothering you? On many operating systems, your mouse cursor will automatically hide itself after it's been untouched for a few seconds. This is especially great for people who watch a lot of videos on their computer, but for some reason Windows doesn't have the option to hide it. AutoHideMouseCursor lets you add this feature in seconds, just by running a small program in the background.
AutoHideMouseCursor is a very simple program. Its preferences panel has only three options: you can disable it, make it automatically start, and adjust the timeout timer. You can choose any value between two and 100 seconds before your cursor disappears. It's an incredibly simple program, and is impossibly easy to use.
In short, AutoHideMouseCursor is a great little program for anyone who likes to watch online video, or even just not be distracted by their mouse cursor. It's a free little program, and works on every version of Windows from 2000 to 8.
Price: Free!
Version Discovered: v1.31
Supported OS: Windows 2000+
Download size: 19KB
VirusTotal malware scan results: 0/41
Portability: No installation required!
Related Posts