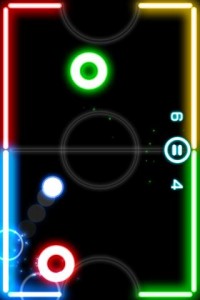 There's something about air hockey that makes it fun no matter where you are and who you're with. It doesn't even matter if you're any good–it's just a great way to spend time with friends. Unfortunately, air hockey tables are expensive. If you've got an Android phone or tablet, Glow Hockey 2 is a great little game that replicates the experience of air hockey for your device.
Glow Hockey 2 is by no means the perfect replica of air hockey for your phone. However, it comes amazingly close: the physics are surprisingly realistic, and just like in real air hockey, I managed to score only one or two points against my (virtual) opponent, even on easy. If you're looking for a more realistic playing field, that's certainly a possibility: in the Pro version (Amazon Appstore only, $0.99) you not only get rid of ads, but you get a wide possibilities of playing field themes, ranging from a glowy field that would've made TRON proud to a classic air hockey look.
If you're looking to play against your phone, that's certainly a possibility. Glow Hockey 2 offers four difficulty levels, and I couldn't score a shot against any of them. (That's a lie: I managed to score one shot after the AI had scored around 10.) However, it also offers the ability to play against someone else using the same device. If you've got a larger phone, such as the Note, or a tablet, such as the Nexus 7, it's easy to fit both people onto one device. It unfortunately doesn't support multiplayer over Bluetooth or WiFI.
Overall, Glow Hockey 2 is a fun game that lets you bring your love of Air Hockey on the road. It's got great physics, and with that, great gameplay. It's definitely a fun game that anyone looking for a good game should download, and even without buying the Pro version, it has a great feature set.
Price: Free!

Version discovered: v1.0.3
Requires: Android 1.6+
Download size: 7.1MB
Related Posts