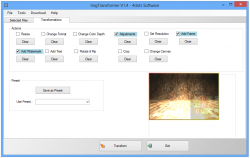 There are dozens of image manipulation programs out there, and many of them seem designed to complicate things as much as possible. Not so with ImgTransformer: this app is quite simple. You select your photos, select your transformations, and are done.
The image selector is quite easy to use. Using the custom-designed file browser, you can add and remove photos from your image processing list. They don't even need to all be from the same folder! You can view the file browser in list view or thumbnail view, allowing you to find your selected photos as fast as possible.
ImgTransformer, true enough to its name, offers lots of transformation options. You can resize the photos to a certain pixel count, change the file formats, change the number of colors, change brightness/contrast/gamma, set the DPI, add a (somewhat tacky) frame, add an image watermark, add text, rotate images, crop images, and change the background color (transparent images only). From that list, adding watermarks and changing brightness/contrast/gamma are probably the most useful for the most people.
When installing ImgTransformer, be sure to set it up as a Custom installation. That way, you can opt out of the totally awesome included default search setting. You'll also want to decline the two free bundled programs that are included free of charge for your convenience. Afterwards, you may actually be able to continue with the installation un-impeded.
ImgTransformer is quite a nice image transforming program. It'd be much nicer if it didn't come bundled with a thousand pieces of crapware, but you can't have everything in life. It has a nice feature set, an easy enough interface, and lots of settings.
Price: Free!
Version Discovered: v1.4
Supported OS: Windows
Download size: 12.3MB
VirusTotal malware scan results: 1/41
Portability: Requires installation
[via AddictiveTips]
Related Posts