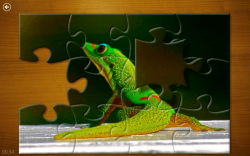 Are you a fan of puzzles? If you are, you may find PuzzleTouch a fun game to download. It's a free jigsaw puzzle app that has dozens of built-in photos, plus the ability to create puzzles from your own photos.
PuzzleTouch is a fun little app. Do beware that the free version of PuzzleTouch is rather limited. It ranges from 12-piece puzzles to 35-piece puzzles. PuzzleTouch Prime, which costs $2.99, has puzzles that range from 12 to 200 pieces!
If you're a fan of jigsaw puzzles, you definitely need to check out PuzzleTouch. Its limited free version is plenty to show off its capabilities, and its reasonably priced Prime version is well worth it for any real jigsaw fan.
Price: Free!
Last updated: 8/25/2012
Supported OS: Windows 8
Supported processors: x86/x64/ARM
Download size: 8.0MB
Related Posts