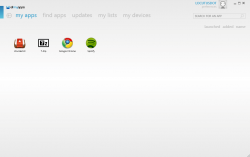 If you're not planning on upgrading to Windows 8, you'll miss out on what's probably my #1 feature: the Windows Store. Luckily, there are alternatives. AllMyApps is a free and great appstore for older versions of Windows.
AllMyApps is a great appstore. It's designed as a Metro app for the desktop, and looks absolutely stunning. After signing up for a mandatory account, you'll be presented with a list of your currently installed apps, and a screen allowing you to search for new apps.
If any apps need updates, AllMyApps will notify you as soon as it notices. You can also browse for new apps: they're split into categories, and each category contains from a couple hundred to several thousand apps. You can download them from directly within AllMyApps.
Another short note is that the AllMyApps Chrome extension, which is entirely optional, replaces the Chrome new tab page with its own. AllMyApps is a great little appstore for Windows. It's a great way to manage and install apps, and is totally free for anyone to use.
Price: Free!
Version discovered: v1.5.0.2
Supported OS: Windows
Download size: 3.4MB
VirusTotal malware scan results: 0/42
Portability: Requires installation
Related Posts