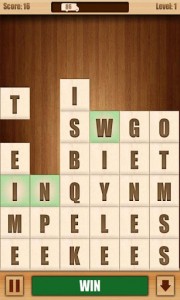 Are you a fan of words and letters? Letris is a word-based game–rather, three word-based games in one–that involve selecting and removing words from a Tetris-like field.
Letris has three different game modes. In the first, titled Letris, letters fall from the ceiling. You have to select words from the collecting letters. The second, called Acronymus, requires you to find a word to make out of every last given letter. WordMatrix is probably the most relaxing. In it, you just have to remove a bunch of words from a pre-filled grid.
If you own a tablet, you'll also get a fun split-screen mode. When you get a word, it'll be thrown over the board to your opponent–and theirs to yours!
Overall, Letris is a great game for anyone to play. It's free (although ad-supported), and is actually quite fun.
Price: Free!

Version discovered: v1.1
Requires: Android 2.2+
Download size: 28MB
Related Posts