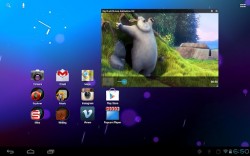 So you have a brand new phone. That's cool! But what are you to do with its giant, glowing, 5.5 inch display? Or, if you have a new tablet, how are you going to make use of that enormous, 10- or 7-inch display? Use a floating video app like Popcorn Player to watch videos while using other apps.
Popcorn Player lets you actually play both local and internet videos. That means you can play videos from YouTube, and any other HTTP video stream. It also supports all local WebM and MP4 videos. To watch any of these videos in fullscreen–which is the opposite of Popcorn Player's point–you can just double tap the video and it'll fill your screen.
Overall, Popcorn Player is a great popout video player. It's entirely free, too. There's no unsightly ads, and no sneaky Pro versions. If you're looking for a free video app, download Popcorn Player now!
Price: Free!

Version discovered: v1.0.3
Requires: Android 3.0+
Download size: 595KB
Related Posts