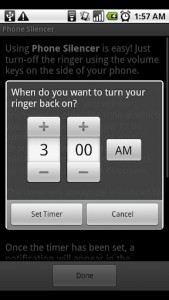 Are you in a meeting for the next half hour? Do you want to mute your phone for the night? If you are, don't rely on yourself to remember unmuting your phone. (You remember how well that worked out!) Instead, use Phone Silencer to unmute your phone at a scheduled time.
The app itself is just a wall of text. The real function appears when you lower your volume to mute using your volume keys: a window pops up, asking you for a time to turn your phone back from mute. You can select a time, never, or, in case you muted it accidentally, to return your phone to a previous mode.
Phone Silencer is a great app for anyone who's prone to accidentally leaving their phone muted. If that's you, install Phone Silencer now–for the sake of anyone who tries to call or text you.
Price: Free!

Version discovered: v1.2.4
Requires: Android 1.5+
Download size: 110KB
[via MakeUseOf]
Related Posts