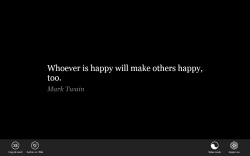 Are you feeling … uninspired? The folks at Coppertino sure were, so one day they decided to create Forismatic. It's a free app filled to the brim with inspirational quotes to help get you thinking.
Forismatic is beautiful in its simplicity. When you open it, you're instantly greeted with a new quote. This is Inspire mode. To get another, just swipe it away, or tap it. You can also copy it, or view the author's Wikipedia page by opening the menu.
Alternatively, if you'd rather sit back and relax, let Forismatic bring the new quotes to you. In Relax mode, new quotes appear at even intervals. It's quite pleasant to the eyes, and lets you unwind after hours of work.
The quotes contained in Forismatic are awesome. They're from both famous people such as Mark Twain and Einstein, and others who are less famous but just as inspirational. If you opt to have the Forismatic live tile, you'll also get a new quote whenever you visit your start screen. Overall, Forismatic is not just an app. It's an experience, and it's one that everyone should at least try. Forismatic is a free download for anyone with a Windows 8 computer or tablet.
Price: Free!
Last updated: 9/1/2012
Supported OS: Windows 8
Supported processors: x86/x64/ARM
Download size: 338KB
Related Posts