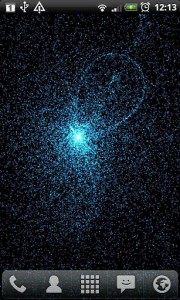 Are you a fan of physics? My love of the science keeps me grounded and down to Earth. Radiant Particles is a freemium live wallpaper in which thousands of particles are pulled together through the attractive forces of simulated physics.
As the particles spin around, they eventually begin to settle. Don't worry–just drag your finger around the screen. The particles will be immensely attracted to your finger, and will flow to it immediately.
The paid version of Radiant Particles is much more customizable. With it, you can change particle speeds, colors, and add many more particles. Radiant Particles is a fun live wallpaper for anyone who likes swirly patterns.
Price: Free with $1.69 upgrade

Version discovered: v1.7
Requires: Android 2.1+
Download size: 1.0MB
Radiant Particles Free on Play Store
Related Posts