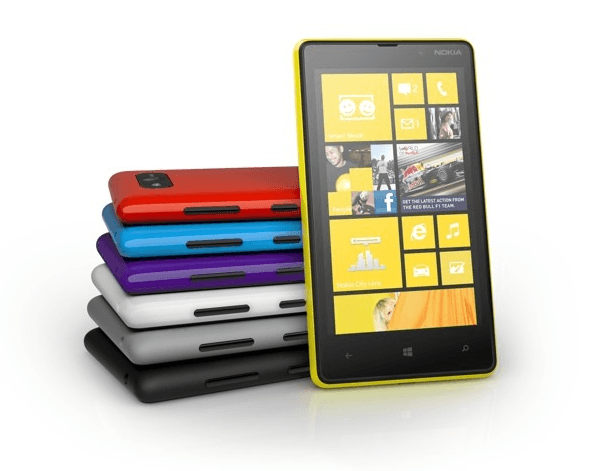 Similar to how last year Nokia revealed a flagship and a budget Windows Phone 7 device, today Nokia too has revealed a flagship and a budget Windows Phone 8 device. The flagship device, Lumia 920, we have already covered. Let's take a look at Nokia's budget offering, the Lumia 820.
Compared to the Lumia 920, the Lumia 820 has more of a mainstream look with its rounded corners. However, the modern, clean, and colorful design principles still resonant in the Lumia 820, which comes in red, yellow, gray, cyan, purple, white and black. Three other things Lumia 820 shares with its older brother are: Lumia 820 runs on Windows Phone 8, and is powered by a 1.5GHz dual-core Snapdragon S4 processor (with accompanying GPU) and 1GB RAM. Other than that, the Lumia 820 hardware plays second-fiddle to that of the Lumia 920; the Lumia 820 has a 800 x 480 4.3 inch ClearBlack OLED display, 8GB internal storage (with support for up to 32GB microSD), 8 MP Carl Zeiss AF back camera (with flash), VGA front camera, HSPA+ or LTE, 802.11 a/b/g/n, NFC, Bluetooth 3.1, 1,650mAh battery, and other standard features of a smartphone (GPS, accelerometer, etc.). While the Lumia 820 support wireless charging, it doesn't come with wireless charging built-in so you need to purchase a separate wireless charging kit from Nokia if you want it.
Availability and pricing of the Nokia Lumia 820 was not revealed except that it will go on sale later this year (where, we don't know). If last year's example is to be followed, the Nokia Lumia 820 will be $150-200 cheaper than the Nokia Lumia 920 (at unlocked, unsubsidized prices).
[via Engadget]
Related Posts