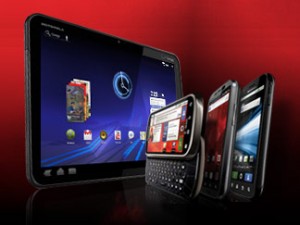 Android updates on non-Nexus devices is a drag. Not only are devices often not updated to the latest version of Android despite being relatively not-old, but confirmed updates for devices are often pushed back or delayed for so long you eventually forget about them. One remedy for this nag is installing custom ROMs but not every can, or wants to, do that. The other remedy is purchasing an iPhone but not every can, or wants to, do that. So what do you do? Well there is no simple answer to that question but if you own a Motorola smartphone, you may be able to make $100.
After Google acquired Motorola there was hope that Moto Android devices would get faster updates. It is too early to tell if this indeed is the case but Motorola is taking a semi-unique step for those consumers that are stuck with Motorola phones that won't get Android Jelly Bean: Motorola is offering $100 to anyone that has a Motorola Android smartphone which will not receive a Jelly Bean update. Hear it from the mouth of the horse yourself:
We want to give you the best of smartphone technology. That means not only pushing the boundaries on design, utility, and speed, but also providing the best mobile software out there. Today, that's Jelly Bean, the newest Android operating system. That's why we're upgrading Motorola smartphones first offered for sale in 2011 and later to Jelly Bean.

If we don't upgrade your phone to Jelly Bean, we don't want you to miss out. Buy a select new Motorola smartphone, trade in your old phone, and we'll give you $100 back. So you always enjoy the best from us.
There are catches to this offer, however. Firstly, you must own a Motorola Android phone from 2011 — any devices from prior years are not eligable. Secondly, you must live in the United States — this offer is only for Motorola models sold in the USA. Thirdly, you must trade in your old Motorola phone — you won't get any money if you don't give Motorola your old phone. Lastly, Motorola hasn't said exactly how they will pay out the $100 — it could be "provided in the form of a Gift Card, carrier credit or other cash equivalent at Motorola's sole discretion."
The biggest catch with this offer, in my opinion, is the requirement to trade in your old Motorola device because you may be able to get more than $100 by selling that device elsewhere. This trade-in requirement essentially makes this Motorola offer a buy-back program and a cheap one at that. But, hey, if you can't get more than $100 elsewhere and you plan on upgrading to a Motorola Android (such as Droid RAZR HD or Droid RAZR Maxx HD), then this may be worth looking into.
If you are interested, you can take advantage of this offer by hitting up the link below and filling out the form. Motorola isn't very clear on exactly when they will send out the $100s but they do say: "Leave us your email address and product information, and we'll let you know when a Jelly Bean upgrade is available for your phone. If we don't upgrade you, we'll send you instructions on how to trade in your phone for a select new Motorola smartphone and get $100 back on your purchase."
Motorola $100 Jelly Bean Update Offer
[Thanks Khalid!]
Related Posts