UPDATE 9/24/09: There is a new version of Ashampoo Burning Studio out (Ashampoo Burning Studio 2010). Please visit http://dottech.org/freebies/10072 for more information.
Long time ago in a glaxy far, far away Naboo was under an attack I posted about how to get Ashampoo Burning Studio 2009 for free. First I posted about how to get it from ComputerBild.de but a few days later VNUNET also started giving it away so I switched my article to use VNUNET as the source of download since VNUNET's website is in English while ComputerBild.de is in German.  However recently it has been brought to my attention that ComputerBild.de have updated their giveaway of Ashampoo Burning Studio 2009 to "Ashampoo Burning Studio 2009 Advanced". Besides the fact that ABS09A is more than twice the download size than ABS09 (~35 MB vs ~15 MB), ABS09A has the following improvements over ABS09:
New Cover Editor features

Save your own designs as themes and reuse or share them
Export projects as XML files
Scan covers directly from original CD covers
Load covers and graphics from files, the Web or the Windows Clipboard
Attractive new themes with new graphics and layouts
Editor improvements, faster operation
Draw and insert geometrical shapes with borders, fill and transparency
Group elements in the editor to move them together
Free rotation for objects and groups of objects, or snap rotate in 15°, 45° or 90° increments
Print up to 4 CDs on a single page
Printer calibration utility for maximum precision printing, calibration settings are saved for every printer used – you only need to calibrate once
Updated label and printer database with many new formats and printers
Undo function in the Table Editor
Improved performance and compatibility
The whole program has been further optimized for faster and smoother performance and enhanced compatibility.
As a quick recap, here are the other features ASB09A has (the features that are the same from ASB09):
Burn and update data discs
Burn data to discs and update previously burned discs by adding and removing files and folders.
Back up your data to single or multiple discs
Back up your valuable data to one or more discs. Single backups can span multiple discs. Restore your backups in a single easy operation.
Rip and burn audio
Rip audio from CDs and burn to audio CDs and MP3 discs on CD, DVD and Blu-ray in a variety of formats.
Burn movies to DVDs and data discs
You can burn video DVDs, Video CDs (VCD), Super Video CDs (SVCD) and data video discs.
Copy CDs, DVDs and Blu-ray discs
Just insert a disc, select Copy and you're ready to burn.
Create and burn disc images
You can both create and burn ISO, CUE/BIN and Ashampoo's own special ASHDISC image formats.
Erase rewriteable discs
Quick and easy erase functions for reusing rewriteable discs.
Expert burn functions for full control
Burning experts can create modified copies of existing discs (read in data structure and make changes and additions) and burn discs of all kinds with full control of all main configuration options.
Label Designer
Point-and-click label design
Ready-to-use themes – just enter your title data
Import track data from your disc
Design and create:

Disc labels
Booklets
Covers for jewel cases, slim cases, DVD and Blu-ray cases

Add your own backgrounds, text objects, images and data tables
Fast alignment and editing tools for images and text
The whole "Cover Editor" new features are not really why I recommend downloading  ASB09A. The "Improved Performance and Compatibility" is. Just sitting idle the new Advanced version uses 15 MB less RAM so imagine the improvements elsewhere. Plus the Advanced version has better icons in my opinion.
So if you have the older Ashampoo Burning Studio 2009 or if you don't, Ashampoo Burning Studio 2009 Advanced is an excellent program if you ever have the need for a complete burning studio software. To get ASB09A, follow the following guide:
If you already have Ashampoo Burning Studio 2009  installed (the non-Advanced version) first be sure to uninstall it (preferably using RevoUninstaller) because ASB09 and ASB09A install into different folders and can co-exist side by side. In other words, installing ASB09A will not remove ASB09 automatically so you must do it manually.

Ashampoo Burning Studio 2009 Advanced officially works on Windows 2000/XP/Vista. It may or may not work on Windows 7.

Visit the promotion page and click .
At the next page wait for the download to start and finish downloading the software.
Install the software. You will be given a choice of English or German. Pick whichever you like.
During installation you will see the following screen: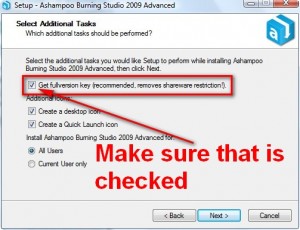 Make sure to leave "Get fullversion key…" checked.
After installation the registration page should open in your browser. If it does not, visit it by clicking here. The registration page will be in German. You can click the USA flag at the very top () to turn it into English or you can go directly to the English version of the registration page by clicking here.
Enter your e-mail address and click "Send":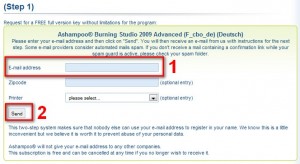 When entering an e-mail address keep two things in mind:

Hotmail e-mail addresses are not supported by Ashampoo. Don't ask me why.
Ashampoo spams. So either use one of your spam e-mails, or make use of Mailinator or 10MinuteMail anti-spam services. My suggestion would be to use a spam e-mail because you are bound to want to get more Ashampoo freebies in the future and having an Ashampoo account is handy (on the same topic if you already have an Ashampoo account just enter that e-mail).
After you have registered, go to the inbox of the e-mail you entered and look for an e-mail from "Ashampoo <MrReg@ashampoo.com>" with the subject of "Ihre Registrierung – Ashampoo® Burning Studio 2009 Advanced (F_cbo_de) (Deutsch)". Open the e-mail and copy the registration code that is inside:

If you have Ashampoo Burning Studio 2009 Advanced still open, go back to it and select "Enter Key" at the "Ashampoo Burning Studio 2009 Advanced Trial Information" window that should be open (if you do not have Ashampoo Burning Studio 2009 Advanced open, open it and go to "Internet" -> "Buy/Register…" and the "Ashampoo Burning Studio 2009 Advanced Trial Information" should open):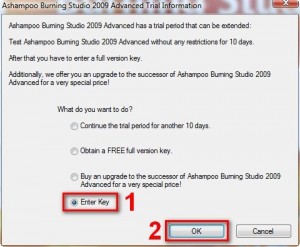 Paste in your registration key at the next window, hit "Register".
Enjoy your fully registered, never ending copy of ABS09A installed! Excellent free Nero alternative.
If you have any problems or questions please post below I will try to help.
Thanks popfly!
Related Posts