Giveaway of the day for August 4, 2009 is:
Version reviewed:
4.4.1.126
Software description as per GOTD:
DoubleSafety is a program for automatic data backup. With an effortless user interface, you can store backups on your hard drive or use a local area network, send them to an FTP server or write to a CD/DVD or Blu-Ray/HD-DVD. You can also automatically encrypt data using the 256-bit AES algorithm.Benefits of using DoubleSafety:

Thought-out interface
Powerful and flexibly customizable scheduler
Encrypting with the AES standard
Uploading backups to an FTP server
Writing backups to CD/DVD and Blu-Ray/HD-DVD
Version control
Incremental and differential backup
Open files backup
————————-
DoubleSafety was last given out in March as v4.3. I wrote a full review on it back then. You can read it by clicking here.
Today's version is v4.4. Here are the changes as per the developer:
Added E-mail Notifications.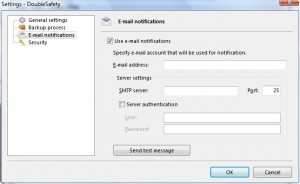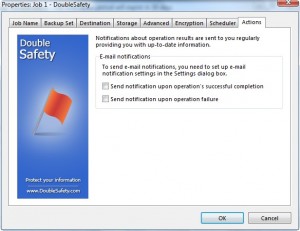 Added Windows 7 Support.
Fixed some interface problems.
For the full review, final verdict, free alternatives, and recommendations, please refer back to my earlier review.
Related Posts