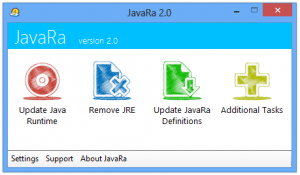 Are you slightly afraid of having Java on your computer now that it's been the subject to not just one, but two zero-day exploits of your computer's security? JavaRa is the tool for you, allowing you to manually update, uninstall, or remove Java from startup.
Java is really annoying. It automatically adds itself to Windows' startup sequence, always bugging you that there's a new security update available. JavaRa's main functions are updating or uninstalling the JRE (Java Runtime Environment), both of which make this go away. Choosing to update will prompt you to either open the built-in Java updater, go to the Java website, or simply download the latest version without checking for an update. Removing it is even better: run the built-in Java uninstaller, come back, and finish the job. It's like Revo Uninstaller, but the people who programmed it made it specifically for Java.
There are also a few other odd jobs JavaRa can do, including downloading new Uninstall definitions and removing Java from Firefox. It's actually a very nice program, especially if you are attempting to uninstall Java, as its specialized registry and file deletions remove every last trace of Java there is.
Price: Free!
Version discovered: v2.0
Supported OS: Windows unknown
Download size: 132KB
VirusTotal malware scan results: 0/31
Portability: Entirely portable
[via Ghacks]
Related Posts