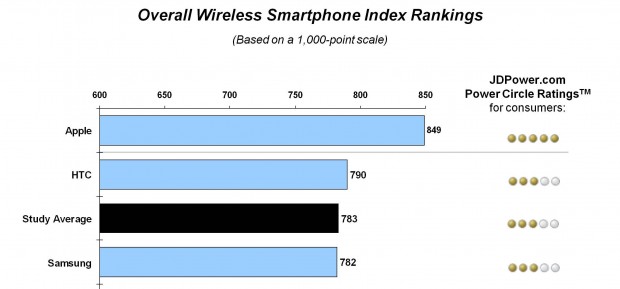 Who is the most satisfied with their smartphone? iSheep? Fandroids? According to the 2012 Wireless Smartphone Satisfaction Study by J.D. Power and Associates, people who purchase Apple are.
In its study J.D. Power asked consumers to rate their smartphone on four criteria (performance, physical design, features, and ease of operation) on a scale of 1-5 (with 5 being the best). The only criterion to take part in this study was owning a smartphone for less than one year. The results? The iPhone received 5/5 marks across the board, leading to a 849/1000 rating for Apple. HTC got second place with an average 3/5 rating for its devices and an overall 790/1000 for HTC while Samsung took third with 3/5 device rating and 782/1000 overall. Motorola, Nokia, LG, RIM, and HP follow behind in that order. The chart below shows the full result of the survey (click on the chart to enlarge it):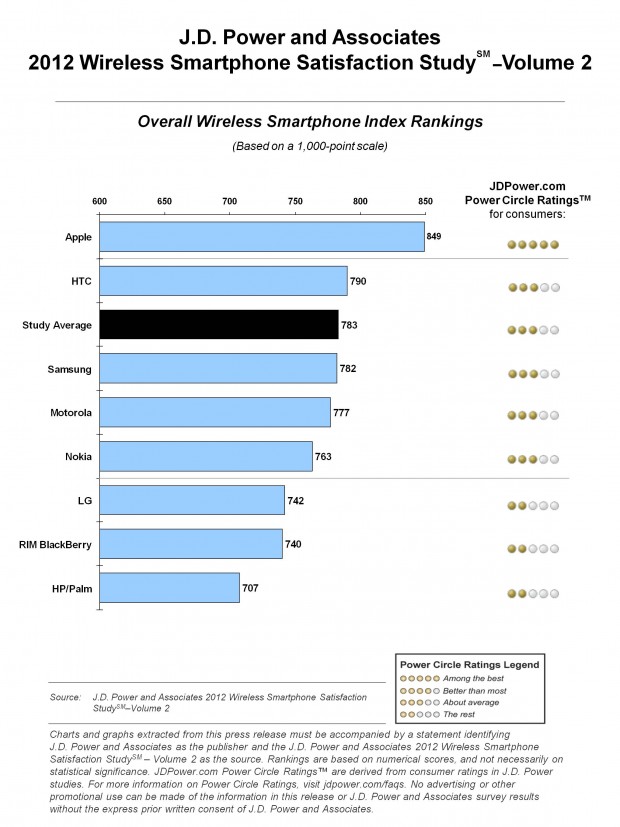 Interestingly enough, this is the eighth consecutive year that Apple has topped this study. So either Apple is doing something right, Android manufacturers are doing something wrong, or iDevice owners really love their phones.
Other interesting information provided by J.D. Power's study is
People who social network and play games on their smartphones are more satisfied with their devices
People who social network and play games typically spend $12-13 more on data every month
For anyone interested in who took the crown for customer satisfaction of feature phones, it is LG.
To read up more on the detailed results of J.D. Power's study, you can hit up the link below.
J.D. Power and Associates 2012 U.S. Wireless Smartphone Customer Satisfaction Study and 2012 U.S. Wireless Traditional Mobile Phone Satisfaction Study
[via BGR]
Related Posts