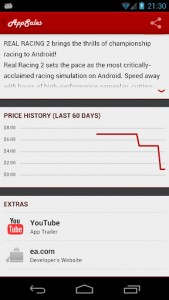 Are you annoyed that apps seldom go on sale, and when they do, you often miss the chance to buy them? AppSales developer Thomas Sojda was annoyed too, and set out to fix it with his app AppSales. It's a free app that can not only monitor the price of apps, but comment and Like sales, set sale filters, and even inform you of other versions (Free vs HD vs Pro vs Uber).
AppSales has a great interface. Its homescreen lists all of the latest sales, in order of chronology, and tapping on one brings you to a beautiful screen displaying information about the sale. It gives you current and historical pricing, how many people commented and liked the sale, a description, and much more. In fact, its historical pricing information even has a fancy chart displaying price over time–and since some apps are almost never on sale and others are periodically on sale, this can be great for determining if you should really buy it.
There are also a myriad of settings for filtering sales. Don't like games? Well too bad. Just filter them out! You can also set minimum downloads, minimum discounts, and even minimum ratings.
AppSales is an awesome sales app, and if you're always trying to eek out a better deal on games and apps, it's definitely worth downloading. It's only useful for broad sale searching only, unfortunately, as you can't search for a particular app. However, that's only a small problem for most people, as most people would rather purchase a discounted game now rather than wait a year and a half for a specific game to go on sale, and AppSales gives the current sales to you.
Price: Free!

Version discovered: v2.1
Requires: Android 2.1+
Download size: 2.3MB
Related Posts