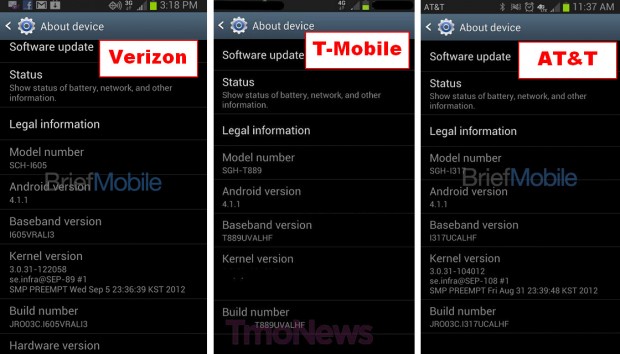 Looking for the beast known as Samsung Galaxy Note 2 in the United States? Your wish may have just been granted.
Through a mix of leaked screenshots and data digs, BriefMobile, TmoNews, and Android Police are reporting the Galaxy Note 2 will be hitting all four major carriers in the United States. While no one has specific dates as to when the awesome phablet will be hitting States side (aside from being released "soon") nor does anyone know pricing details, it seems that all four versions of the Galaxy Note 2 will stay true to the International version as much as possible including retaining the 1.6GHz quad-core Exynos processor.
Other details that come with the leaks are the AT&T, Verizon, and Sprint Galaxy Note 2s will have LTE while the T-Mobile version will have HSPA+. We also know the devices will be running Android 4.1 (Jelly Bean). Aside from that the leaks don't reveal much else. However, if the US versions of the Note 2 are loyal to their International brother, then they will likely have 2GB RAM, come in 16GB, 32GB, and 64GB versions with up to 32GB expandable microSD slot, gorgeous 5.5 inch 1280×720 Super AMOLED HD displays, and support for Samsung's S Pen stylus.
Of course you know what they say about rumors — they are not fact. So I suppose the rumor of the Note 2 coming to all four carriers in the United States could be wrong. However, I doubt it. If I were a betting man (and I am not a betting man), I'd put my bets on Samsung bring this puppy across the Atlantic as soon as possible. Excited? Yeah, you should be.
[via Brief Mobile, TmoNews, Android Police]
Related Posts