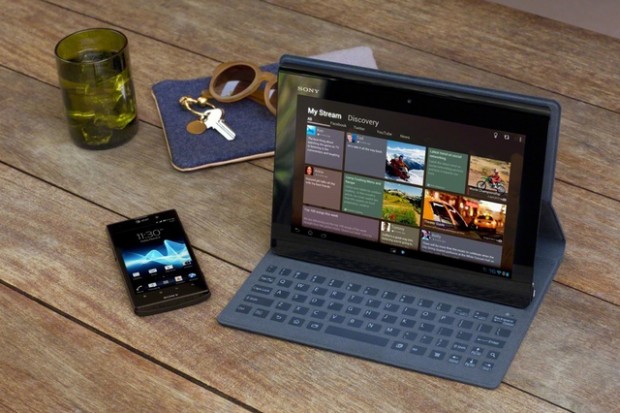 For those who love Android and are looking forward to the future of tablet computing, the Sony Xperia Tablet S is highly anticipated. But what exactly does it hold within the thinnest shell that the company has ever produced? Tiny hamsters running on tinier wheels, black magic wrapped around glowing runes shaped like Android's mascot? Actually, euphemistically, that isn't far off.
The Tablet S boasts a Tegra 3 chip, Android 4.0 (Ice Cream Sandwich) — though Sony promises to upgrade to Jelly Bean as soon as all custom apps are optimized — up to 64 gigs of built-in storage, and is less than an half-an-inch thick. The 6000mAh battery boasts up to 12 hours of run time (no independent studies have confirmed this, however) and the tablet has a full sized SD card slot, 1280×800 screen, 8MP back camera, 1MP front camera, Bluetooth 3.0, WiFi 802.11a/b/g/n, and an infrared port (for using the tablet as a remote for your TV).  And as icing on the proverbial cake, the tablet has 5GB of space on Sony's new cloud storage service, PlayMemories.
The Tablet became available for purchase on the 7th, and the prices are as expected: $400 for a 16GB version, 32GB for a $500, and the large 64GB for $600. If you want to see what black magic it holds within it's thin metal cases, check out the video shown below.
[via DroidDog]
Related Posts