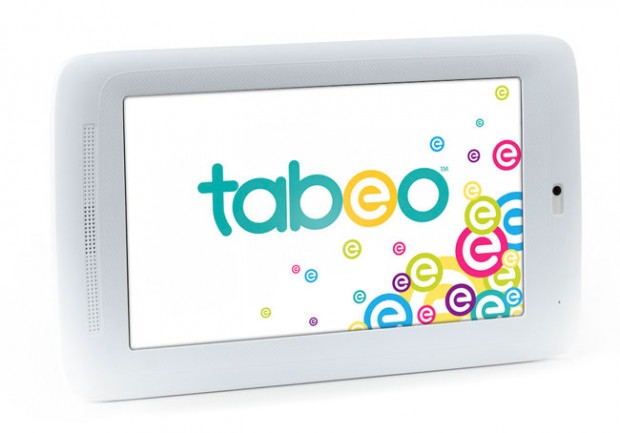 For parents tired of their kids wanting to play with their iPads and other tablet PCs, Toys R Us has posted a new listing for an intriguing alternative: Tabeo.
The Tabeo is a 7-inch Android-based tablet designed specifically for children, going on sale at the first of October. It's sleek and just as pretty as mommy or daddy's tablet, so the kids should be eager to play with it. Including a 1GHz processor, 4GB of internal storage (which can be upgraded to 32GB via microSD), an HDMI out port, and 50 pre-loaded applications plus it's own app store (Google Play Store is not included) that has over six thousand more app ready for purchase and download (though I hope THAT requires a parent's credit card to be entered every time – otherwise Junior is liable to go hog wild and potentially spend a lot more than the initial $150 that their parent already spent on the device itself). Other features of Tabeo are built-in parental controls for Internet surfing, WiFi connectivity, and a "drop-safe bumper". It isn't entirely clear what version of Android the Tabeo is running except for the claim that it has a "child-friendly" interface.
All in all, the Tabeo looks like a fascinating device that should delight both it's intended audience and their parents. It should be noted, however, that some commentators are pointing out that the Toys R Us Tabeo is the same thing as the Archos Child Pad which clocks in at $20 cheaper. Since we have not played around with either the Tabeo or Archos Child Pad, we cannot confirm or deny the suspicions but if you are looking to grab the Tabeo, you may want to look into the Child Pad to save $20.
[via Engadget]
Related Posts