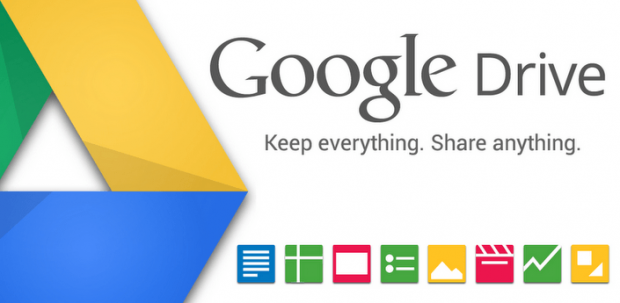 Since it was leaked some time last week, the update to the Google Drive app for Android has finally been released, as has an update to Google Drive for iOS. Available through the Google Play Store and Apple App Store respectively, this updated app includes all sorts of functionality that was absent or simply not working as intended in it's predecessor.
Android
One of the most significant functionality added is you can now create, upload to, and move files between folders on your Google Drive account — removing a huge headache for those of us who are addicted to cloud storage. This feature was not available in the past within the Google Drive app and made the whole thing almost not worth having, as far as I was concerned.
In addition, they've updated the PowerPoint/presentation viewing experience — you can swipe to move between slides, make slides full screen while viewing the associated speaker notes, etc. Tables are now enabled in the document editor, as well as the ability to reply, create, and resolve comments. And while Google Cloud Print isn't exactly a prolifically used service, it's now integrated into the mobile application. I plan on utilizing it a lot more now, that's for sure.
iOS
The iOS version of Google Drive unveiled this summer proved to be nothing more than an acclaimed document browser. Users could view and read files they had created on their desktop computer, but they were not able create or edit documents on their Apple device. Thankfully, Monday's update provided Google Drive on iOS with some new features. Now, users are able to create files and documents, edit and format them, work together with other users, and upload photos as well as videos from their device for storage in their Google cloud, which is simply a platform that allows you to build applications and websites in conjunction with various other advantages.
Although users can view Google presentations and spreadsheets on the app, creating and editing them on the Google platform is still not an available attribute to Google Drive on iOS.
Conclusion
According to the Google blog, Google has exciting new features planned for Google Drive on Android and iOS:
Looking ahead, we have plenty more planned for the Drive mobile apps—including native editing and real-time collaboration for Google spreadsheets.
From the sounds of it, Google Drive may turn into the one-stop-shop free Office suite many people have been dying for on smartphones.
Below is a promo video of Google Drive followed by the full changelog of Google Drive and links to Google Drive on Play Store and App Store.
Android – Google Drive v1.1.4.12

Create folder, upload to folder and move to folder
Filter folder contents by file type
Option to auto-sync pinned content while on 3G
Richer Google Presentations viewing experience
Basic table support in Documents Editor
Create, reply and resolve comments in Documents Editor
View and change fonts in Documents Editor
Pinch to zoom in Documents Editor
Print files using Google Cloud Print
Option to resume interrupted uploads

iOS – Google Drive v1.1.0

Edit Google documents with formatting and collaboration
Edits to your Google documents appear to collaborators in seconds
Richer Google presentations with animations and speaker notes
Create a new folder or Google document
Upload photos and videos from your device or a photo directly from your camera
Move an item to a folder in your Drive
Delete and remove files from your Drive
Drive is now available in over 30 languages
Google Drive on Play Store | Google Drive on App Store
dotTech writer Royce wrote the iOS portion of this article.
[via Google, AndroidCentral]
Related Posts