***This is for USA residents only. Sorry rest of the world!***
By a raise of hands how many dotTechies know of Microsoft sponsored Bing.com Cashback (formerly known as Live.com Cashback)?  I learned of this cashback program last year (figured most people know about it so no use creating an article on it) and have been using it to save money while buying online (mostly eBay) for a while. For those that know about this great cashback program, let me explain quickly.
As most people know, Microsoft has been lately been very aggressive in their attempt to increase their search engine share and knock Google down a notch or two. Bing.com Cashback started as Live.com Cashback as Microsoft's way to entice people to use Microsoft's Live.com search engine (now Bing.com) and has since become an online shopper's goldmine. Basically what this cashback program does is if you access any of the many online stores that participate in this program via a link from Bing.com, you will get an X% amount of cash back from your total purchase price. Let me explain by examples.
Say I want to purchase an HP laptop. Currently Bing.com cash back for HP is at 5%. So…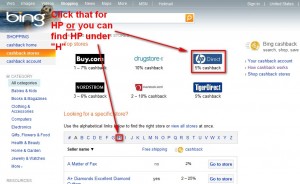 I enter my e-mail address (if you don't have a Bing.com Cashback account already you will be e-mail instructions on how to create one or if you have an account enter that e-mail):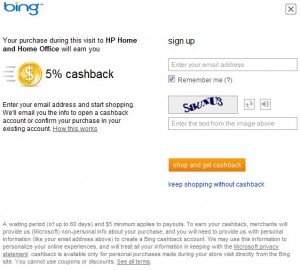 After that I am redirected to HP's website where I just purchase my laptop normally.
After purchase I will receive an e-mail from Microsoft saying that I have qualified for X amount of cashback (5% off my purchase price) and I can request to receive that cash after 60 days.
Now the above HP example is one way to using Bing.com Cashback. Another way is by literally searching on Bing.com. I will again show by example.
Lets say I want to buy a toothbrush. Therefore I go to Bing.com and search for "toothbrush" (without the quotes). In the search results for toothbrush the first sponsered result is a 20% Bing.com Cashback for Drugstore.com: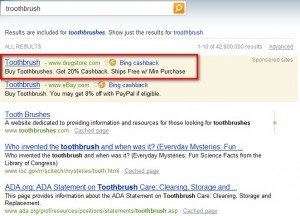 So I click on the link, enter my e-mail (just like above), purchase a toothbrush from Drugstore.com and get 20% cashback (just like the above HP example). The great thing about this second method is that the cashback received by actually searching on Bing.com is usually higher than if you went to Bing.com's Cashback page (i.e. Drugstore.com cashback is only at 10% via the Cashback page as opposed to 20% via Bing.com actual searching).
While I am on the subject of using cashback via the Bing.com search engine let me point out that eBay is also a participating Bing.com cashback location. If you purchase items via "Buy it now" and pay with PayPal on eBay you can get cashback. However you must go to eBay via Bing.com search engine.
For example, look at the above search of "toothbrush". The second sponsored link is to eBay with 8% cashback: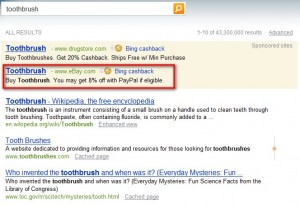 Clicking on that link will take you to eBay.com with a cashback banner at the top:

If I buy something with "Buy it Now" and pay with PayPal I get 8% cash back to my PayPal account. eBay cashback is instant.
Of course there are some limitations on this, such as some stores won't let you stack a coupon with cashback and you are limited to $200 cash back via eBay per transaction, but Bing.com Cashback can potentially save you a ton of money (read the Bing.com Cashback FAQ and the special terms and conditions that apply to eBay cashback for more info).
Anyway, the point of this post was not to introduce Bing.com Cashback (even though I kind of did), but to inform dotTechies that starting August 10, 2009 Microsoft is increasing the cashback % on many stores for a limited time in Microsoft's "back to school" promo! Some stores are seeing cashback increase by almost 2x! According to my, uh, "sources", this is an example of the possible cashback increase:
Drugstore.com – 25% (Note: prescription drugs are not eligible for cashback)
Ebags – 30%
HP – 15%
Overstock – 20%
Sears – 15%
Circuit City – 12.5%
Shoebuy – 20%
Tiger Direct – 12.5%
eBay – 15% Update: eBay only 10% – use keyboard "camera"
Eastbay.com – 50%
This list is not inclusive at all and many other stores cashback will also double and/or increase. So if you are looking to make an online purchase now is a great time to do it!
Hope this helps save dotTechies a lot of money.
Update: I have decided to create a running forum post on what Bing.com search keywords get extra % cashback (such as the toothbrush example above). Please post there if you find any (including for eBay).
Related Posts