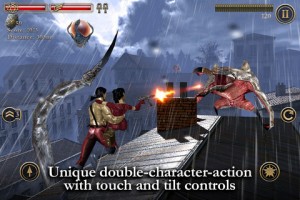 Blood Roofs is an action runner game that presents the endless running-like genre in a completely different way. Gamesmold released the game unexpectedly this Sunday built using the popular Unreal Engine so let's see if this game is worth trying or not.
In Blood Roofs you get to play as shirtless, muscle-man Jake who saves a lady in distress in the beginning of the game, Catherine. The game starts in a mysterious place showing a rooftop where injured Catherine is fighting monsters with her machine gun during an intense rainstorm. Then, Jake comes to save her out of nowhere and starts running after grabbing her. That's where you get to control the character.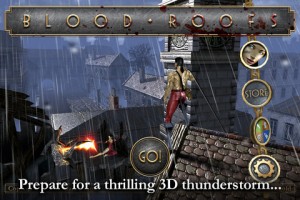 The controls are simple: you have to tilt the device to move left and right, and tap the left side of the screen to jump and the right side to shoot monsters. However, the jumping is difficult sometimes as the camera often shows Jake from weird angles, making things hard to notice. But once you spend some time playing the game, you will get the hold of it.
As Catherine is wounded, you have to carry her while running away from the monsters. But she can assist you by firing her weapon. Once you are done saving her, you can try some other unlockable characters available in the game in need of help like a mermaid, an escaped convict, and a grandfather clock (yes, you read that properly).
Overall, if you like "runners" like Agent Dash and Temple Run, you are definitely going to love Blood Roofs. Its $2.99 price tag does make the game one of the most expensive runners available on the App store, but its high quality 3-D graphics are well worth it.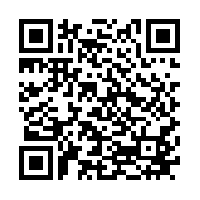 Price: $2.99
Version discovered: 1.0
Requires iPhone 3GS, iPhone 4, iPhone 4S, iPod touch 3G, iPod touch 4G and iPad; iOS 3.1.3 or later

Download size: 47.3 MB
Related Posts