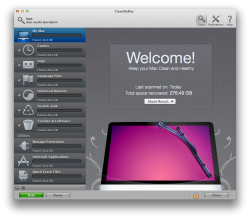 CleanMyMac can be a great tool if you find that your Mac is slowing down or not running the way it should be. Essentially, CleanMyMac will clean out all the files that you don't need or may have forgotten about. It will clean things such as your trash, cache, browsing data, and even languages that you don't need. In addition, CleanMyMac functions as a terrific application uninstaller. Simply drag your application into CleanMyMac, and it will delete all files associated with it.
A great CleanMyMac feature is that it also monitors various sections of your computer. For example, you can set it up so CleanMyMac automatically cleans out your trash. This is a great feature because it is very easy to allow the trash to pile up. It also keeps a running tally of all of the space that you've saved so far. This means that after you've been using the application for awhile, you can see exactly how much space you have saved during your time with the application. This is what makes you realize that this application is truly worth it.
There are several annoying quirks when using the application. If you have CleanMyMac set up to monitor your trash bin, then the application will be launched every single time you put something in the trash. This get's very annoying because an average user can put several items into the trash per day. You can disable this, but that of course makes the application less functional in the long run. It would be a much better system if you could change the frequency of the trash checks. You can set a size limit for automatic trash checks, but this still doesn't help when deleting multiple files at once or very large files.
Overall, CleanMyMac is a great program for any person on a Mac. It even has an optional sub-program called CleanMyDrive. This will do all the above mentioned actions but with any hard drive that you plug into your computer. CleanMyMac can be used as a free trial or you can purchase it for 6 months of use. For a little more cash you can unlock a full, lifetime license.
Price: $14.97 (six months) | $29.95 (lifetime)

Version discovered: 1.10.8
Supported OS: OS X 10.7 or later
Download size: 10mb
Related Posts