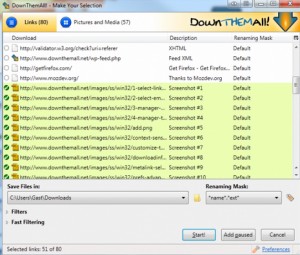 I do a lot of graphic design on the side. When downloading a massive amount of stock images, it's usually an annoying one-at-a-time process. Not so since I found DownThemAll.
DownThemAll takes the annoyance of mass-downloading and makes it simpler. With DownThemAll you can download all the files with a specific extension on a webpage with a single click, or set up filters to only pull down certain file types or names. DownThemAll also exists in the context menu, you can easily queue individual downloads on a site without dealing with the batch download interface. You can even drag and drop items to be downloaded into the download manager window. Whatever your downloading style and needs, DownThemAll has an option to fulfill them.
This add-on can even record and list flash videos.
The preferences are pretty standard. You can make sure the add-on asks you if you want to download a duplicate filename  you can choose whether or not to be alerted when a download finishes, or to have it play a sound if there's an error. You can choose whether or not you want the manager window to open minimized or have it minimize to the system tray instead of the task bar. You can choose whether or not to have the DownThemAll preferences available in the right-click context menu or in the Tools menu, or neither. In the Network settings, you can choose how many concurrent downloads and downloads per server you want, and how long you want between automatic retries. You can set limits for specific servers, if, like me, you download from the same servers quite a bit.
The other settings are fairly standard for a download managing add-on, but still interesting to play with depending on what it is you're working on. Bottom line is there's plenty of room for customization for your individual needs and downloading style.
There are other download manager add-ons out there, but DownThemAll is one of the best for Firefox. Check the download link below to give it a try for yourself.
Price: FREE ($10.00 suggested donation by developer)
Version reviewed: 2.0.15
Requires: Firefox 3.6 and later, SeaMonkey 2.1 and later
Related Posts