I am a huge fan of Disney. Living less than 10 minutes from Disneyland has only intensified that love. So when I went looking for what iPad app to do my first review on, the answer seemed obvious — Temple Run: Brave, a 3D platform runner for the iPad.
Ever since the days of Atari, games like this have thrived. I played Pitfall, back in the day. I played the original Temple Run when it first came out. But the moment the Disney version, themed around their newest Pixar movie, Brave, came out, I KNEW I would have to play it.
The game has a simple enough interface with absolutely beautiful 3D graphics. The controls are quite intuitive and sensitive as well.
Move side to side: tilt the iPad in the appropriate direction.
Jump: Swipe up.
Duck/Slide: Swipe down.
Turn left: Swipe left
Turn right: Swipe right
One of the things I found the most fun about the game is Merida's (the main character) vocal observations while she's running. I won't spoil all the different things I have heard her say, but my favorite by far was, "Ach, so much jumping!"
The enemy in this version of Temple Run, unlike the original's demon monkeys, is the evil bear Merdu. And should you make the mistake I did and confuse the swipe left/right control with the tilt left/right control, he will catch you very quickly.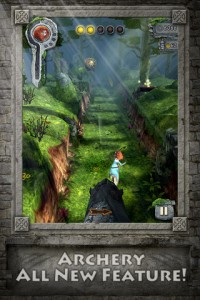 Once you get the hang of the controls, the game is wonderfully addictive. You make a mistake, and find yourself saying "oh, just one more time — I'll just go one more" and then end up playing the game half the night until you start dying not because you messed up a control – but because you fell asleep.
Like it's predecessor, Temple Run: Brave has quite a few "achievements" and "goals" that will unlock as you progress further into the game. It also notifies you every time you pass your previous high score, just to encourage you to keep playing. In terms of gameplay, the speed increases as you run, and occasionally a power up will actually cause you to die. For example, the Dash power-up expiring a second before it would've turned you automatically results in you flying to your death off a cliff because there's no way you could possibly turn fast enough in the one second you have. But those kinds of annoyances are present in any game and actually make the gameplay interesting.
Bottom line is Temple Run: Brave is fast-paced, addictive, easy to learn, and above all, fun.
Price: $0.99
Note: Temple Run: Brave is normally $0.99 but is free "for a limited time" at the time of this writing. No word on when it will go back to $0.99.
Version discovered: 1.1.5
Requires  iOS 4.0 or later.
Download size: 35.2 MB
Temple Run: Brave on Apple App Store
Related Posts