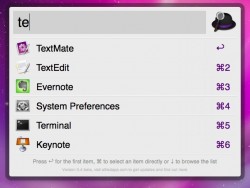 Alfred is a beautiful productivity application for your Mac. It gives you an entire arsenal of features directly at your fingertips. Using Alfred's most basic functions, you can launch applications, conduct web searches, or find nearly any file on your computer by simply typing a few commands. What ties it all together is that all of this is possible through one, single window. This is a huge advantage because it eliminates the need to have multiple finder windows open along with your web browser. It can make everyday tasks significantly quicker and easier.
If you decide to adopt Alfred permanently, you can unlock much more advanced features. These advanced features will allow you to control your iTunes playback, produce screen captures, and completely revamp your file browsing system. If you use Alfred to its fullest, then you will find yourself barely using Finder at all.
Alfred allows you to set up quick and easy-to-use keyboard controls. This makes the entire experience almost seamless. Alfred is so beautifully designed that it almost makes you forget that you are using a third party application. This is because Alfred directly connects to your other applications such as your web browser. You can set it up so that just typing a single word will automatically launch a specific website.
If you download Alfred from the Mac App Store, you will get the free version with the basic features. However, if you are interested in the advanced features, you will have to buy the Power Pack. What's frustrating about this is that the Power Pack cannot be purchased through the App Store. This can be very inconvenient for the users who like to keep all of their downloaded apps in one place. Plus, among other things, having all of your apps in the Mac App Store allows you to easily see which ones have new updates.
After spending quite a bit of time with Alfred, I can honestly say that there are almost no features that it lacks. With the exception of the minor App Store quirk, it is flawless. Any user who gives Alfred a try will undoubtedly become hooked. This application has literally taken tedious tasks that one must perform every day and turned them into easy tasks that can be accomplished with a click of a button. Alfred can essentially be your own personal assistant. It is especially useful if you have grown tired of dated interfaces on your most popular applications because you can accomplish so much without even entering the primary application. If all of this isn't enough, Alfred has an entire army of extensions that you can download to expand its functionality.
Price: Free (Alfred), £15 (Power Pack)
Version discovered: 1.2
Supported OS: OS X 10.6 or later
Download size: 2mb
Related Posts