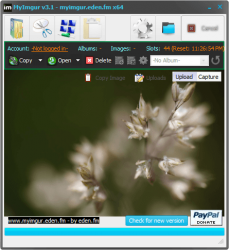 Are you in need of an easy to use program to upload images to the web? MyImgur is a free tool that integrates with online image hoster Imgur to not only upload, but take screenshots and delete previously uploaded images.
MyImgur is definitely not the best looking of Imgur clients. However, it supports lots of things, including automatic resizing, and even Imgur accounts–meaning you can upload more images per day than with other clients. It also has a built-in screenshot tool, allowing you to take screen-area screenshots, window screenshots, and more.
Then there's the context menu sharing. This is what makes MyImgur shine. Alongside its automatic resizing, you can upload images to Imgur from the right click menu on any image, meaning you can get small and quick uploads virtually instantly.
All in all, MyImgur is a great but ugly way to upload and compress images for uploading to Imgur. There's the much cleaner alternative ImgurUploader, which lacks the screenshot and resizing features but in exchange has a much nicer interface. However, if interface doesn't matter to you, MyImgur is probably the king of the uploader kingdom, featuring many times more things than any other Imgur app I've ever seen.
Price: Free!
Version discovered: v3.1
Supported OS: Windows unknown
Download size: 2.5MB
VirusTotal malware scan results: 0/41
Portability: No installation required!
Related Posts