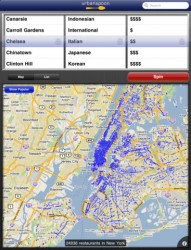 If there's one thing I hate: when I'm so hungry that I don't know what it is that I actually want. This happens to me and my fiancee all the time – and for awhile, it resulted in us frequenting what became "our place" simply by virtue of the fact that we kept ending up there because they have red velvet cake – California Pizza Kitchen. Now, there's nothing wrong with CPK. However, other than their desserts, we were never too happy about the food simply because the food never turned out to be what either of us wanted.
Then we were stumbled onto a wonderful iPad app that turns looking for what you want to eat into a game. The app is called Urbanspoon, and it features what amounts to a slot machine way of deciding on a place to eat.
The app features 3 windows, and a Google Maps style map. The leftmost window lets you set the city you want it to search within. If you don't set it, it'll use GPS to stay in your general area. The middle window lets you pick the style of food you're looking for – everything from American to Sushi to Steakhouse to Tacos and more. The final window on the right is about price – in dollar signs ranging from $ to $$$$, each additional $ indicating another level of expense. There's a "lock" on each window, so you can force it to only pull from a specific city, a specific genre of food, or a specific price – or all three.
Once you have your windows set the way you want them to be, you hit the red "Spin" button. All three windows (assuming you haven't locked them down) will spin, and you're on your way to figuring out where you're going for lunch, dinner, or that important date with your special someone.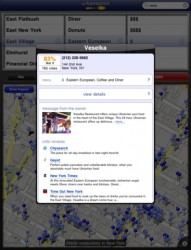 Once the app has found a place you're interested in trying (or returning to – it does find things you undoubtedly know about as well), you can click on the little map flag to bring up more information about the restaurant. The little flag tells you what percentage of reviewers (based on Yelp reviews) liked the place, and confirms that it matches your food genre and price choices. Clicking on the arrow to expand the flag will give you the address, a menu (if available), the option to view details on Urbanspoon's website, and critic reviews gathered from local newspapers and sites around the web to help you decide if this really is where you want to go for dinner.
As free apps go, this is one of the more useful ones out there for the iPad, if you want to find a new restaurant, or if, like us, you have trouble deciding where you want to go for dinner. Since finding out about this app, I can honestly say that my fiancee and I have found it absolutely invaluable. What makes it even better is that by changing the city, you can make recommendations to someone who isn't in your area, or find what's around where you plan to move or will be visiting soon. We're planning to move to Washington sometime in the near future. Having never been there, we had no idea if there would even be one of our favorite smoothie places in the area we're planning to move to. Urbanspoon to the rescue! The first thing it pulled up when searching in our soon-to-be-home city, was none other than Jamba Juice – exactly what we'd been worried wouldn't be there. We spent over an hour playing with the app, looking at things where we planned to move. Urbanspoon, my friends, is a delightful app.
Price: FREE
Version reviewed: 1.1.1
Requires iOS 3.2 or later
Download size: 0.7 MB
Related Posts