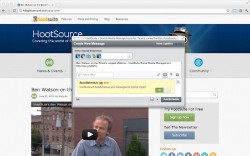 I'd been lucky so far to be able to give you reviews on add-ons and extensions that I've really liked. That changed today. I haven't used Hootsuite before, and I honestly didn't know much about it. However, Hootlet bills itself as being "sharing made easy," and will supposedly share whatever tab you currently have open, via a shortened URL of course, to any or all social networks you have it logged into. It requires a Hootsuite account to work, so I knew I would be setting that up when I chose the extension for a review. However, I didn't expect the level of confusing annoyance that would come with it.
Installing the extension puts a cute little owl up in your extensions area. Clicking this owl brings up the "share current tab" window, with an option to share individually or share all. There's a plus button used to add social networks – except when I clicked it, nothing happened. I tried several more times. I also opened, closed, reopened, and eventually uninstalled and reinstalled the extension. It still wouldn't work. So I thought perhaps it only pulls from your Hootsuite account. I clicked the "account" button, and went to make one.
It proceeded to inform me that the Gmail address I've used for the last eight years "doesn't exist." Furthermore, It couldn't sign me in via Google, and I didn't trust any of its other options. So I went to create an email account from scratch. It still didn't like my email address, and so I decided that having now wasted the better part of an hour just trying to get this extension to work, it wasn't worth any more of my time. I uninstalled it.
According to the reviews on the extension page, there are a lot of people for whom it works absolutely fine. People love it. But I just don't share their appreciation. It's entirely possible my problems are completely my own and have more to do with me trying to do too many things at once than a failure of the extension. However, I have to say that when an extension that's supposed to make life easier only seems to complicate it, I can't see any reason to keep it.
Price: Free
Version reviewed: 2.0
Requires: Chrome
Hootsuite Hootlet on Chrome Web Store
Related Posts